Azet: The rapper's fortune
How much money does Azet have?
Azet is one of the most popular German rappers at the moment. He belongs to the KMN gang, which was founded in Dresden in 2010. Since then he has published tracks with their other members as well as as a solo artist. His greatest success is the album Fast Lane, with which he topped the German charts in March 2018. The cherished Azet's net worth is € 2.5 million.
This is how Azet built his fortune
At the Azet makes most of his money with his music. Two of his albums were at the top of the German sales list, plus a total of eleven top 10 singles in Germany by the end of 2020. The associated music videos also generate income thanks to views on YouTube, as do concerts. In addition, the rapper is one of the owners of the KMN Gang label and therefore also shares in the proceeds of other artists such as Zuna and Albi.
In addition to music, Azet is also an entrepreneur. So he and his crew colleague Zuna acquired the at the beginning of 2020 Sales rights to the South American beverage White Colombia for the German market. He has also been selling his own kebab, Azet's Green Kebab, since the end of 2020.
Entry into the rap scene with the KMN gang
Azet, which is actually called Granit Musa, was born in the Albanian capital Tirana. However, his parents come from Podujeva in Kosovo, but had to flee from there. In 1994 they came to Dresden. In elementary school, Musa met his future rapper colleague Ali Rihilati. They joined the Ghetto Stars crew as young people, which was soon disbanded. Instead of this In 2010 they founded their own crew: the KMN Gang.
Azet's first successes and his imprisonment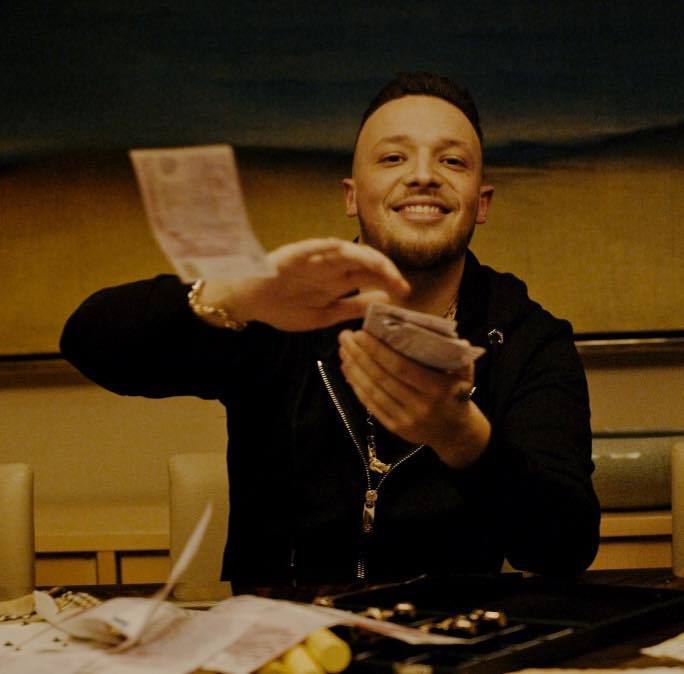 Musa was still called Azphalt at that time, but soon changed this name to Azet. Rihilati was originally called Achillez, but is now known as Nash. After a short time, the KMN Gang released a self-titled mixtape, which, however, was denied commercial success. The rapper Zuna came to the crew, which recorded several unreleased albums. In April 2015, Zuna and Azet brought the single Fuck the police out, which caused a sensation in the German rap scene. As of May 2015, Azet was on remand for stabbing a man and trading marijuana for an extended period of time. In October 2015, he was therefore sentenced to two years and eight months' imprisonment. The custody was taken into account, the rest of the sentence served the rapper from November 2016 to April 2018. However, he was regularly released and was able to continue to be musically active.
Ascent from prison
In December 2016, Azet released the single Flap flows out, with which he was represented in the German charts for the first time. In March 2017, Azet and Zuna collaborated with rapper Noizy and released the song number 1. This rose to number seven in the sales list and was awarded a gold record. Due to continued good sales figures should number 1 even received a platinum record in 2019. The single was released in December 2017 Gjynah the first harbinger of Azet's debut album. It reached number eight on the charts.
Shortly after that came up with the song Qa bone launched a collaboration with RAF Camora that sold more than 220,000 copies and received a gold record. With these sales, Azet's fortune continued to grow. The rapper can also increase his income with the streams on Spotify. In 2019, Azet stated in Lelele: "Yes, my brothers go all-in, Azet brings in the second million".
With two albums to the top
Azet's first album Fast Lane Finally came on the market in March 2018 and topped the charts in Germany, Austria and Switzerland. The rapper's second number one album in Germany and Austria became in March 2019 Super Plus, a collaboration between him and Zuna. With his younger brother Albion Musa alias Albi, Azet released the album in September 2020 Fast Life 2 which reached number three in the German charts. A few weeks later, the single, recorded with Capital Bra, was released BLFL, which rose to fourth. Azet has so far celebrated great success as a rapper and it can be assumed that this will continue.
Image sources:
@Azet / Facebook

Visit site for more useful and informative articles!