Bruce Darnell: The Model's Fortune
How much money does Bruce Darnell have?
Bruce Darnell clearly owes his fame, at least in Germany, to the model mom Heidi Klum. She put him on TV and that's where it all started. While Bruce was part of the jury for "Germany's Next Top Model" from 2006 to 2007, he has since had a steep career on German TV. The native New Yorker has been involved in most of the major casting formats that are important in Germany, in the role of juror or catwalk trainer. Whether in "Das Supertalent" or "Deutschland sucht den Superstar," the German TV audience simply cannot get enough of the lovable American. Bruce Darnell has an esteemed Assets of 4.5 million euros.
From the US Army to the catwalk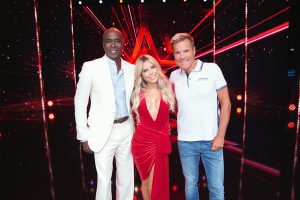 Most viewers, however, should be surprised that the openly gay male model has been single for over a decade. After all, Bruce looks absolutely adorable on TV. Also that Bruce was once in the US Army, very few people would guess. He worked as a paratrooper in the US military for a full six years in order to finance his studies in sociology. The fact that today's TV star even came to Germany is thanks to his stepfather. Because he was once a professional soldier in Augsburg, so that Bruce came into contact with Germany during his childhood.
In order to earn a living, Bruce Darnell worked as a waiter in the Bavarian metropolis of Munich. After all, that was how he earned his bread for six years. There, a model scout noticed him, who laid the foundation for the American's later career. Whether Hermès, Kenzo or Issey Miyake, Bruce Darnell has been on the catwalk for many world-famous brands. From New York to Paris, Tokyo and Milan he has seen the catwalks of this world and now passes this knowledge on to others as a model coach and choreographer. While Bruce worked as a model from 1983 and as a catwalk trainer from 1990, he did not appear on German TV until 2006.
Bruce Darnell knows how to market himself
Even though Heidi Klum opened an important door for Bruce Darnell, the American knew how to market himself from the start. He simply seized the opportunity that presented itself to him. This also resulted in advertising contracts with Fonic and C&A, the well-known German department store for cheap fashion. The smart American has meanwhile also become an author. His Book "Drama, Baby, Drama! How you become what you are " appeared in February 2008. With that, he made it onto the Focus bestseller list.
As early as March, the book, which not only contains styling tips, but also valuable advice on finding oneself, was also launched on the market as an audio book. In 2009 the American brought the same two perfumes which were also named after him. From then on, the lords of creation could spray themselves with "Bruce". The women's fragrance, on the other hand, was marketed as "Darnell".
While he needed a few attempts until RTL also got up at Dieter Bohlen's request Bruce Darnell as a member of the jury for Supertalent and DSDS, he finally made it onto German TV. Its popularity has lasted for over ten years. So far, the German audience just can't seem to get enough of Bruce and his charming sense of humor. Darnell also appeared as a catwalk trainer in the "Supermodel 2008" format in Switzerland. However, he was able to celebrate his greatest successes in Germany.
Image sources:
MG RTL D / Stefan Gregorowius

Visit site for more useful and informative articles!