Celebrity Big Brother Gages 2017
From the basic idea of ​​Big Brother, a concept with the stars was born, which was first broadcast in 2013. From August 11th to August 25th 2017, Celebrity Big Brother is going into its fifth season. 12 celebrities in a container, their lives in the television studio are filmed around the clock. But how much do the stars earn at Celebrity Big Brother on Sat1? We have researched and although the payments are kept under lock and key, some fees have leaked.
How much do the celebrities make at Big Brother 2017?
For Sarah Kern, taking part really pays off. She gets the highest earnings ever paid on Celebrity Big Brother. Sarah Kern collects one Fee of 300,000 euros for Celebrity Big Brother. Jens Hilbert is just like the fashion designer a millionaire. He receives a fee of 77,777 euros. But the nobleman does not keep the money for himself. He would like to donate his remuneration to the "Ein Herz für Kinder" charity organization. Sarah Kern could probably take an example from him. The entrepreneur says he has achieved a lot in life and that is why he gives a lot back.
The fees of the TV candidates are increasing more and more. Last year at Celebrity Big Brother was that highest fee at 250,000 euros. Benjamin Tewaag, the son of Uschi Glas, was able to claim this remuneration for himself. The designer Julian FM Stöckel got the smallest salary back then with only 15,000 euros.
Who is at Promi Big Brother 2017?
Claudia Obert – 10,000 euros
The asterisk is a little less well known, she founded her in 1990 Lean Selling model label. As a fashion entrepreneur, she is very successful and can be seen on television now and then. In 2013, for example, she took part in "The Perfect Celebrity Dinner" on VOX. In the same year she was also on taff, in the show about luxury bargains. In 2016 she was a guest at the night café on Südwest 3.
Dominik Bruntner – 10,000 euros
The young, just 24-year-old from Baden-Württemberg works as a model. The handsome man became in 2017 too Mister Germany chosen. The most beautiful man in Germany is just about to become famous. With Promi Big Brother, he used a good opportunity to become known throughout Germany.
Eloy de Jong – 50,000 euros
The Dutch pop singer was a swarm of girls in the 90s. As a singer in the boy band Caught in the Act he was coveted and famous. After the band broke up, things got a little quieter around him. He used the time and made a comeback as a singer in 2004. He was also a guest on relevant television shows, for example in 2008 he helped cook "The Perfect Celebrity Dinner" on VOX. When Caught in the Act celebrated a reunion in 2015, he and his bandmates could be seen in a few shows on TV.
Evelyn Burdecki – 10,000 euros
A lesser-known participant who might become really famous in Celebrity Big Brother. The less famous, the lower the fee. Burdecki already got a small fee on television, with the Bachelor 2017. At that time, however, she was eliminated in the first round and is therefore not very well known.
Jens Hilbert – 77,000 euros
The entrepreneur made it to millionaire. He has built a million dollar business himself and it is very commendable that he wants to donate his fee. Jens Hilbert has enough money to try to become famous by participating in Celebrity Big Brother.
Maria Hering – 10,000 euros
We already know Maria Hering, she is probably one of the most famous participants here. She became famous for one thing above all: the relationship with Bastian Yotta. At that time she also took his made-up surname and went as Maria Yotta through the world. With the series on Pro Sieben "The Yottas, full throttle through America", Maria became known as the woman next to Bastian Yotta. But she is also a singer and even took part in DSDS before life as Maria Yotta. Does Maria Hering sing a song or two while showering in the container? We can be curious. Incidentally, it must also be mentioned that Maria Hering was intended as a substitute candidate for the jungle camp in 2017. Since no one was canceled, she wasn't there. But who knows what will happen in the Australian jungle in the next few years.
Milo Moiré – 10,000 euros
The Swiss woman has a special job. She is a performance artist who Art presented naked. She shows her beautiful naked body at art exhibitions and trade fairs, and then also uses the stylistic device of provocation. With this work she gets a lot of media attention.
Sarah Kern – 300,000 euros
The fashion designer has already been seen naked. Her nude photos appeared in Playboy in 2000 and in Penthouse in 2006. The beauty can be seen at Celebrity Big Brother in 2017. With her fat salary, she is probably the highest paid Celebrity Big Brother participant. She claims that it turned her on to be for sale, despite being herself Millionaire is.
Sarah Knappig – 80,000 euros
The German Model became known on television by participating in Heidi Klum's show Germany's Next Top Model. In 2011 she also took part in the jungle camp in Australia and is known to many Germans. At the time, she caused quite a stir with her narcissistic nature.
Steffen von der Beck – 125,000 euros
The media advisor came to be known as Fiancé of Jenny Elvers. After the breakup, things got quiet around him. Maybe Celebrity Big Brother could become his stepping stone to get back on TV more often.
Willi Herren – 50,000 euros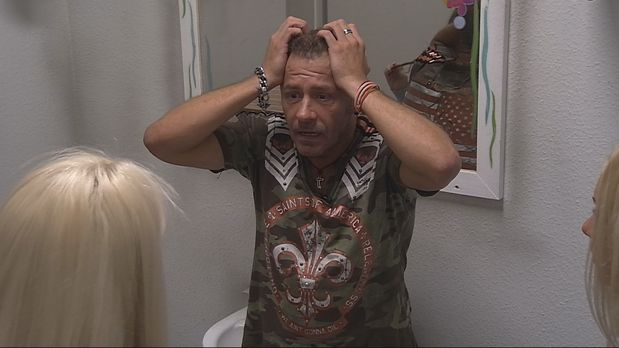 Like some of the other participants here, Willi Herren was also seen at "I am a star – get me out of here" in the jungle camp. The mood singer has long been famous. But Celebrity Big Brother could help him get back on everyone's lips and increase his media presence. Many celebrities use such TV shows to refresh their C-celebrity status and to create some media buzz around themselves. Willi Herren has been with the Lindenstrasse participated, every German knows his face.
Zachi Noy – 100,000 euros
The Israeli actor became famous for a role on German television. He was Johnny in the eight-part film series Popsicle. He is a successful television star in Israel, and this goal is also clear to him in Germany. That is why he already took part in Das Supertalent and also in the woman swap. Dieter Bohlen asks him when he participates as a super talent why he makes such a fool of himself. Zachi Noy's performance back then wasn't the best. However, he did not yet achieve great fame. Maybe he will succeed with Celebrity Big Brother 2017?
Photos: Â © SAT.1

Visit site for more useful and informative articles!