Dietrich Mateschitz – Fortune of the Red Bull Boss
How much money does Didi Mateschitz have?
Dietrich Mateschitz, who is repeatedly called "Didi" in F1 circles, is known to most viewers from this very sport. What many do not know, however, is that Mateschitz is not only the owner of the Formula 1 teams Red Bull Racing and Scuderia AlphaTauri, but also Head of the Austrian beverage company Red Bull. The Austrian is currently in the media again and again because of his controversial soccer club "RB Leipzig", which now plays successfully in the 1st German Bundesliga. He is currently in negotiations with FC Bayern boss Uli Hoeneß to build a mega sports hall in Munich, which should offer space for 10,000 people. It will be the home of the FC Bayern basketball team and the EHC RedBull Munich ice hockey team.
Mateschitz is now one of the 100 richest people in the world and has been the richest Austrian for years, if you don't include the Piech family here. According to estimates by business magazine Forbes, that's Didi Mateschitz's assets are 22.32 billion euros.
Didi Mateschitz: A marketing specialist with vision
Dietrich Mateschitz can rightly be called a marketing specialistbecause he understands like few in the marketing industry how to market a product in a very effective way and to address the right target group without endangering the reputation of his own product in the long term. He acquired this knowledge at a young age at the Vienna University for World Trade, where he studied for a full 20 semesters! However, he would later combine this knowledge with his growing wealth of experience and his great talent for marketing.
The product he "invented" in 1984 was actually nothing new. When he was looking for a suitable product that could be marketed well and teamed up with Thai partners, he noticed a Thai energy drink that contains about as much caffeine as a cup of coffee and tasted slightly sweet. The recipe was slightly changed, the newly created drink called Red Bull. Mateschitz received 49%, his partner also 49% and his son 2% in the newly founded company. Interesting fact: the original name of the Thai drink (Krating Deang) corresponds to the English translation "red bull".
From 1987 you could buy the newly introduced drink. Through an aggressive marketing strategy that communicates to potential customers that they can go to extremes with the help of Red Bulls and that extreme sports are / are therefore preferably sponsored, Red Bull achieved great popularity in over 160 countries. The annual turnover of the brand, in which Mateschitz still holds 49%, is around 5.9 billion euros – a fortune!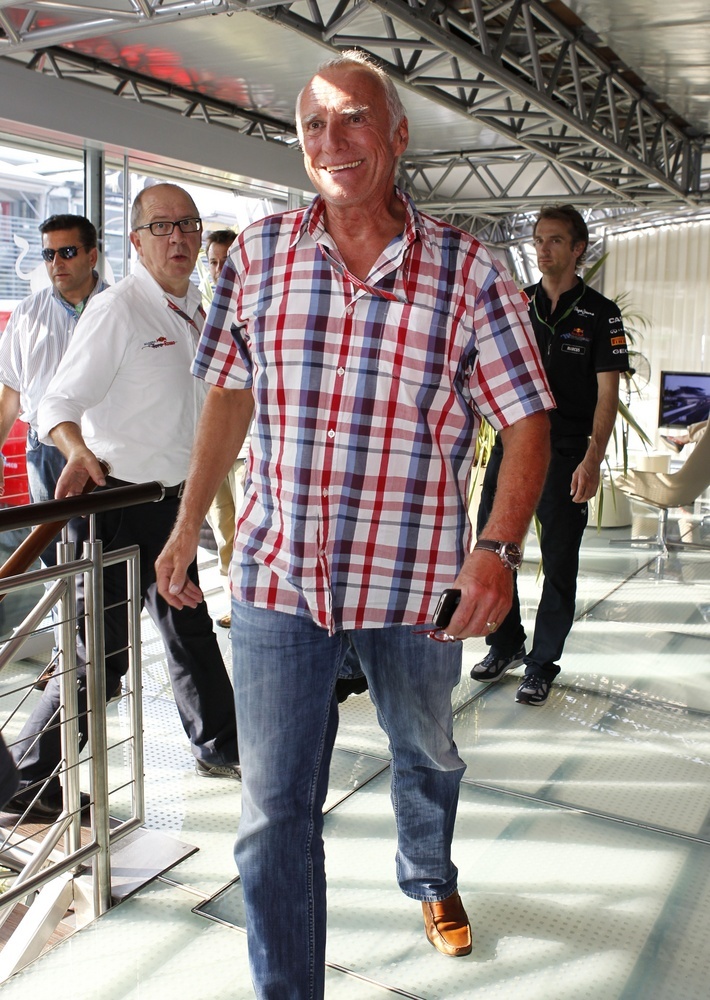 In his career and especially in recent years, Mateschitz had to listen to critical voices again and again due to the marketing of extreme sports, as 8 people have now died at events sponsored by Red Bull. Although all of the fatalities were professional extreme athletes who also appeared at events that were not supported by Red Bull, Red Bull and sometimes Mateschitz himself were portrayed as bogeymen. The most successful sponsoring offspring is considered Felix Baumgartner with his Stratos projectwhich was broadcast around the world on TV and the Internet.
Formula 1 & football
Not only did ex Formula 1 world champion Sebastian Vettel or Max Verstappen fly under the RedBull flag (Head of Motorsport: Helmut Marko), the Austrian also provides high financial resources for outstanding other sports. The Red Bull Boss, on the other hand, did not want to finance football at first, but his close friend Franz Beckenbauer advised him to do so, as it is the most popular sport in Europe and the marketing value is extremely high. So it came about that not only the Austrian club "FC Red Bull Salzburg", but also the MLS club "New York Red Bulls" and also the "RB (grass ball sport) Leipzig" belong to the beverage company. According to rumors, there should also be great interest in an English Premier League club.
Outside of his can empire, Mateschitz is one passionate aircraft collector. An architecturally striking hangar – called "Hangar-7" – which was specially designed for its aircraft, houses the cult aircraft Douglas DC-6 B, which once served in Yugoslavia's state services. Collecting airplanes may sound like an expensive hobby to the average person, but it's no big deal to a billionaire.
Didi is also friends with the Austrian and action film hero Arnold Schwarzenegger. But it is still denied today that Arnie was asked for help with the energy drink market launch in America. However, he was considered a big fan of the drink and made it so popular as governor that it even moved into the California government building.
Didi Mateschitz's fortune
When talking about Mateschitz's fortune, one has to distinguish between one's own fortune and those of the Red Bull company. First of all, let's talk about the company.
The Red Bull company, in which Mateschitz holds 49% with his own company "Distribution & Marketing GmbH", has several subsidiaries that are wholly owned by Red Bull (here is just a small selection):
Scuderia Toro Rosso (F1 Team)
Red Bull Racing (F1 team)
Red Bull Air Race (air racing series)
EHC Red Bull Munich (ice hockey team)
FC Red Bull Salzburg (soccer team)
LawnBallsport Leipzig (soccer team)
Red Bull New York (soccer team)
Hangar-7 (event center and star gastronomy Ikarus)
Hello TV (TV station)
Furthermore, Mateschitz names the following companies (selection) his own:
Hotel Auhof in Sankt Wolfgang
Dietrich Mateschitz Beteiligungs GmbH
Project Spielberg (Red Bull Ring)
Fohnsdorf thermal baths
In his private life he owns a Island in the South Pacific (Near Fiji), which he even rents out to interested people. Well-heeled holiday guests can find refuge from everyday life here for a whopping € 15,000 per night. He himself lives in a 900 square meter villa near Salzburg, to protect his privacy, as he has always strictly sealed off his private life. And yet at the same time he maintains a noble apartment in Salzburg's luxury residential district Aigen.
Caricatural work
Mateschitz is anything but stingy. For many years he has been working intensively on research into healing methods for paraplegia and in 2012 he called the Paracelsus Medical University donated 70 million euros. This is the largest private donation that has ever been made in Europe. Furthermore, the foundation founded by Mateschitz and a friend also proves "Wings for Life"That Mateschitz is always aware of the risk of extreme sports and makes an active contribution to researching new treatment methods.
The Heritage
When sole heir of Didi Mateschitz's assets and Red Bull shares is just his Son Mark Gerhardter in question. The son comes from a previous relationship with Mateschitz and completed a degree in business administration. At the moment he is already being intensively incorporated into the Red Bull universe, so that Mark will soon be the new "Mr. Red Bull "can become. He has held 50% of Dietrich Mateschitz Beteiligungs GmbH since he was 18 years old and thus manages his father's assets together with his father.
Image sources:
Mandoga Media / PR Photos

Visit site for more useful and informative articles!