Gianni Infantino: Fortune of the FIFA Boss
How rich is Gianni Infantino?
Gianni Infantino has been the most powerful man in football since 2016. As President, he heads the world association FIFA. Among other things, he is responsible for ensuring that the 2022 World Cup takes place in Qatar and that the competition will be held with 48 instead of 32 teams from 2026. Even as UEFA General Secretary, he ensured that the field of participants in the European Championship was increased. The cherished Gianni Infantino's net worth is 20 million euros.
That's how much Gianni Infantino earns as FIFA President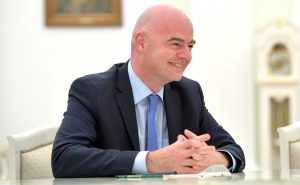 In February 2016, Infantino was elected President of the world football association FIFA, succeeding Sepp Blatter. Shortly afterwards, the world association announced how high the remuneration of its chief incumbent is. So Infantino earned initially around 1.4 million euros a year. In the beginning, however, he was not entitled to a bonus – in contrast to the further course of his presidency.
FIFA salary
In 2019 that was Infantino's annual income at FIFA is already around 2.7 million euros. It consisted of a fixed salary of 1.8 million euros and a bonus payment of 950,000 euros. This makes him the highest-earning official in world football. Of course, there is also a company car and a company apartment. In addition, Infantino receives monthly expenses of around 2,000 euros from FIFA. Time and again, the top FIFA employees are suspected of doing business in their own pockets. So it would not be surprising if Infantino also increased his personal fortune in dubious ways.
Functionary instead of player
Gianni Infantino actually wanted to be a footballer, but he lacked the talent. Instead, he studied law at the University of Friborg after graduating from school and then worked as a lawyer. Soon he turned anyway Football world – not as a player, but as an advisor to various bodies in Switzerland, Spain and Italy. He then became Secretary General of the International Center for Sports Studies (CIES) at the University of Neuchâtel.
The rise in UEFA
In August 2000 Gianni Infantino started working for the European football association UEFA, for which he initially took care of legal and financial tasks. In early 2004, he became director of the Legal Affairs and Club Licensing Division. When the UEFA General Secretary Lars-Christer Olsson resigned in February 2007, Infantino temporarily took over. In May 2007 David Taylor was appointed UEFA General Secretary and Infantino his Deputy. In October 2009, Infantino Taylor was finally succeeded. He was instrumental in ensuring that the European Football Championship in 2016 was held for the first time with 24 instead of 16 national teams. By 2016 he was UEFA General Secretary.
The most important of all football officials
In October 2015 Gianni Infantino stood as a candidate for election to the president of the world association FIFA. However, he was only running as a substitute for former UEFA President Michel Platini, who was threatened with a long-term ban at the time. Had Platini been allowed to run for election, Infantino would have renounced his candidacy. However, when Platini was actually banned for eight years, the way was clear for Infantino. He was elected FIFA President in February 2016 with promises to the associations of smaller countries to provide them with larger financial injections and to increase the number of participants in the soccer World Cup.
Video referees and more World Cup participants
In his office Gianni Infantino campaigned heavily for the introduction of the video referee, which has been part of the football regulations since March 2018. In addition, the FIFA President planned to increase the number of participants in the World Cup from 32 to 48 from 2022. This adjustment should now come from 2026.
Image sources:
Cover picture: man_kelly / Bigstock.com
Kremlin.ru [CC BY 4.0], via Wikimedia Commons

Visit site for more useful and informative articles!