Lionel Messi: PSG net worth and salary
How much money does Lionel Messi have?
Overall, Messi lies with one estimated private wealth of 510 million euros in front of superstar Cristiano Ronaldo, with whom Messi not only delivers close matches on the pitch. Because if you look at the salary of the superstars alone, Messi deserves more than CR7. But the advertising value of the Portuguese is a lot higher than that of the Argentine. The contract with FC Barcelona, ​​which ran until 2021, was not renewed and Messi switched to Paris Saint Germain and is said to earn a net salary of 41 million euros per season. In addition, there is a hand money of around 40 million euros just for the signature. That would make him the absolute top earner in football again. Even the young teammates Neymar and Mbappe look old here. The last net salary at FC Barcelona was 35 million euros net / season.
Messi's financial career is remarkable: while his parents had to raise EUR 700 a month for eight-year-old Lionel for a hormonal disorder, he earned a salary of EUR 600 a month at FC Barcelona as a teenager. With his sporting successes, his earnings gradually increased and led to a gigantic fortune.
Lionel Messi's salary: how much did he make at FC Barcelona?
When it comes to the financial well-being of the superstar at FC Barcelona, ​​the club did nothing and paid a fortune. In addition, a Transfer fee of 700 million euros stipulated in the last contract running until 2021. Since the renewal in November 2017, Messi's lay Salary at FC Barcelona at an incredible 35 million euros net. That would be over 71 million euros gross, which the Catalans paid to one player alone. However, that was just the guaranteed salary. In addition, according to the Spanish press, there was a bonus of 63.5 million euros for the signature and a loyalty bonus of 70 million euros on top. In total, the six-time world footballer has for 4 years (2017 to 2021) 555,237,619 euros received, that would be a good 138 million euros annually.
Of course, there are other earning opportunities for the superstar through success bonuses: For the Champions League title he would have received a one-off 12 million euros and there would also be extra money for championship titles, cup titles or world footballers. Der Spiegel calculated via Football Leaks documents that if Messi only played 60% of the competitive games, an average gross salary of around 106 million euros. With maximum success it could even be 122 million euros per season. A fortune!
Since an agreement was not possible despite a waiver of half the salary for the financially troubled club, the Argentine left the club in the summer of 2021.
At his new club Paris Saint Germain, Messi has earned 41 million euros net per season in a two-year contract since the summer of 2021. In addition, there is 30 million euros in hand money for the signature free of charge. He is once again the absolute top earner in football.
Income through top advertising contracts
His show that Lionel Messi doesn't have to be a glamorous superstar like Cristiano Ronaldo or David Beckham in order to be an interesting advertising medium high-value advertising contracts. Companies like Adidas, Pepsi Cola, EA Sports, Tata Motors and Turkish Airlines (together with basketball superstar Kobe Bryant) trust the image of the good boy and bring the Argentine annual income of 35 million euros. He was also the face of a Samsung Galaxy and a Gatorade advertisement. He's also in front of the camera for the Gillette commercials. Adidas alone is said to transfer up to 8 million euros per year.
The sporting career
Lionel Messi can claim to be legendary. Who would have thought that the whirlwind that was born in Rosario in 1987 would probably become the best footballer in the world 26 years later, according to the opinion of many experts, fans and even those not interested in football? After Messi started playing football at his hometown club Grandoli FC at the tender age of 5 and joined Newell's Old Boys three years later, his parents moved him to Barcelona to escape the economic crisis in Argentina. Nobody knew at the time that this step was the beginning of a fantastic career. Messi fought his way through the youth teams of FC Barcelona, ​​although he was already considered to be conspicuously dangerous at the time. When he made his debut in the Primera Division at the age of seventeen against city rivals Espanyol Barcelona, ​​the first comparisons with Diego Maradona were made. Fortunately, he did not lose his goal risk, which earned him the crowning glory of the world association for the first time in 2009: Lionel Messi was honored with the award for World Footballer of the Year 2009.
The ball is round – and gold!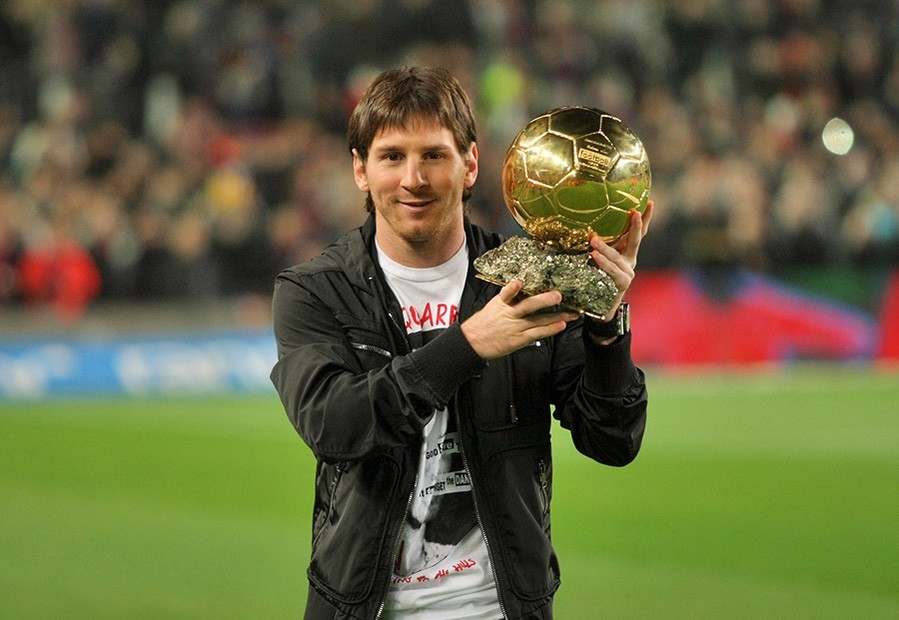 Lionel Messi has lived up to his reputation as the best footballer in his long career. For his club FC Barcelona he was not only valuable because of his reputation, but above all because of his sporting successes. That's how he is now Record goalscorer of the club and also record scorer in the Champions League with 14 hits in one season. Not least because of these sporting successes, Lionel Messi was elected world footballer a total of 6 times. In the Primera Division he is also the only player to date who was able to score against all other 19 teams in a row. Lionel Messi is also the all-time record goal scorer for FC Barcelona. He was able to set Paulino Alcantara's record (369 hits) at the age of 26.
FIFA World Player of the Year: 2009, 2010, 2011, 2012, 2015, 2019, 2021
Machinations and investments
The investment of his fortune made the Spanish tax police 2013 suspicious. Badly advised and investing in bogus companies, Messi is suspected of having evaded taxes between 2007 and 2009. According to recent media reports, however, Messi has cooperated with the authorities in this matter and brought the responsible partners to account (and a large sum himself in the process Taxpayers paid in arrears). In 2017 he was sentenced to a 21-month prison term, which he was able to avoid with a payment of 3.7 million euros.
However, this did not affect his investment business. Messi owns alongside three dream properties in Barcelona (the story in which Messi bought his neighbors' villa after they were disturbed by the party noise went around the world) also some shops. He is currently having a dream house built next to the main building in Shape of a soccer ball also supposed to have incorporated a huge pool and his shirt number. In addition, the Argentine superstar had in one Residential complex invested in his hometown, which is due to open in 2015 on an area of ​​150 hectares.
The name Messi was also associated with the data leaks in the Panama Papers in 2016.
Lionel Messi bought these cars
Dodge Charger SRT8
Audi Q7
Audi R8
Ferrari F430 Spider
Maserati GranTurismo MC Stradale
Maserati GranTurismo S.
Lexus 4 × 4
Lionel Messi and his greatest titles:
4x Champions League winner 2006, 2009, 2011, 2015
10x Spanish champions 2005, 2006, 2009, 2010, 2011, 2013, 2015, 2016, 2018, 2019
7x Spanish Cup winners 2009, 2012, 2015, 2016, 2017, 2018, 2021
1x Copa America winner 2021
Image sources:
Maxisports / Bigstock.com

Visit site for more useful and informative articles!