Nico Rosberg: assets & salary of the ex Formula 1 world champion
Nico Rosberg owns these fortunes
Nico Rosberg was born on June 27, 1985 in the German city of Wiesbaden, but now lives in the state of Monaco. When Son of the racing driver Keke Rosberg he is half Finnish and half German, although he grew up multilingual, but does not speak Finnish. After Nico Rosberg had worked successfully in several other motorsport classes, he signed his contract with Williams in 2005 and, as a result, found his entry into Formula 1, the premier class of motorsport and should, a year later in 2006 10 years after his debut the world champion title bring to Germany. Since 2020 he has been involved in the successful VOX show "Höhle der Löwen" and invests in startups in front of the cameras. His estimated fortune is around 50 million euros. He also works for Sky as a Formula 1 expert in the races.
Earlier salary as a Formula 1 driver
It was also due to his success that he was one of the top earners among German athletes: with one Salary of 15.72 million euros per season at Mercedes, he was unable to overtake his Formula 1 team-mate Lewis Hamilton, who earned around 37.5 million euros in 2016, in terms of salaries. However, an early contract extension until 2018 would have paid Rosberg a salary of EUR 45 million (for two years) had he not resigned. The top earner Sebastian Vettel dominated the Formula 1 payroll in 2016 with his 43.9 million euros. With advertising deals like the Mercedes commercial for the new A-Class, Nico's earnings increased to around 18 million euros and made a significant contribution to the gigantic fortune.
Lions' den
Since autumn 2020 (season 8), Nico Rosberg has been an investor in the VOX hit show "Cave of the Lions". He replaced long-term investor Frank Thelen, who wants to focus more on his startups than on television. How much the former Formula 1 driver will invest of his assets in new startups remains to be seen. He has been sitting at the side of Carsten Maschmeyer, Judith Williams, Georg Kofler, Ralf Dümmel, Dagmar Wöhrl and Nils Glagau since 2020 and will fight for the best deals.
Startup investments
Since the end of his career, Nico has also used his celebrities in the Statup scene and likes to invest his money. He took over the family business TRE (Team Rosberg Engineering) from his father.
Air taxi builder Lilium Aviation
Marketing startup Stoyo
At the e-scooter startup ANIMAL he should own 0.07%.
49% from the family business TRE
FIA racing series Formula E
Climate protection startup Planetly (0.4%)
In addition to the startup participations, Rosberg founded the "Greentech Festival" in Berlin in 2019 for sustainable future technologies. He is also said to have made early investments in Elon Musk's space company "Space X" and Uber competitor "Lyft".
DHDL Investments (Deals):
So far, the following deals have actually been made in the lion's den:
Season 10 – Fall 2021
SHAVENT – wet razor (110,000 euros 7.5%)
KOHPA – conductive paper (66,666 euros for 11%)
Season 9 – Spring 2021:
Beneto Foods – insect meal pasta (80,000 euros for 7.5% + another 7.5% depending on success)
mysleemask – sleep mask (50,000 euros for 20%)
Season 8 – Fall 2020:
HYCONNECT – lightweight connection technology (250,000 euros for 8.75%)
Investing in real estate
In his adopted home of Monaco, Nico and his wife Vivian invest heavily in real estate. Vivian is an interior designer, so it stands to reason that the couple should buy, renovate and sublet apartments. This also contributes to the high wealth.
Ice cream parlor in Ibiza
The Rosbergs have been running an ice cream parlor called "Vivi's Creamery" on Ibiza since 2014, which is also intended to increase their fortune.
The sporting career of Nico Rosberg
The father's genes quickly began to work in Rosberg, too, so that the racing-loving boy sat in a kart when he was just six years old. Of course, through his father, he came into contact with very quickly different motor sport classes, so that he took part in several such classes, which were quite unknown to the layman, and was able to gain important experience that he would later need in Formula 1. The first larger and better-known racing series contested Rosberg in 2002. Again it was his father who put him in the Formula BMW brought and let drive in their own team. This was by no means without reason, because Rosberg convinced with his talent and won the championship. You can definitely see your time in Formula BMW as the first major milestone.
The second milestone was undoubtedly the very young one at the time GP2 series, which was established as the last stage before Formula 1 and acts as a recruiting series for the premier class. In 2005, Rosberg succeeded here too, albeit only after a bitter battle for points against Heikki Kovalainen, who was formerly active in Formula 1, in winning the world championship by driving his own racing car into the front third of the field in addition to five first places, which brought him important points.
So it was not surprising that he was only a year later Williams as a teammate of Mark Webber was signed. Even in Bahrain, where he made his debut, he managed to set the absolutely fastest race lap. Rosberg had now made it into the premier class and was able to get into good positions again and again in the following two seasons despite adverse conditions (low engine reliability, insufficient pace of the vehicle), which firmly established himself in Formula 1. As early as 2009, in his last year at Williams, he earned a small fortune with around 6 million euros.
The time at Mercedes and his greatest successes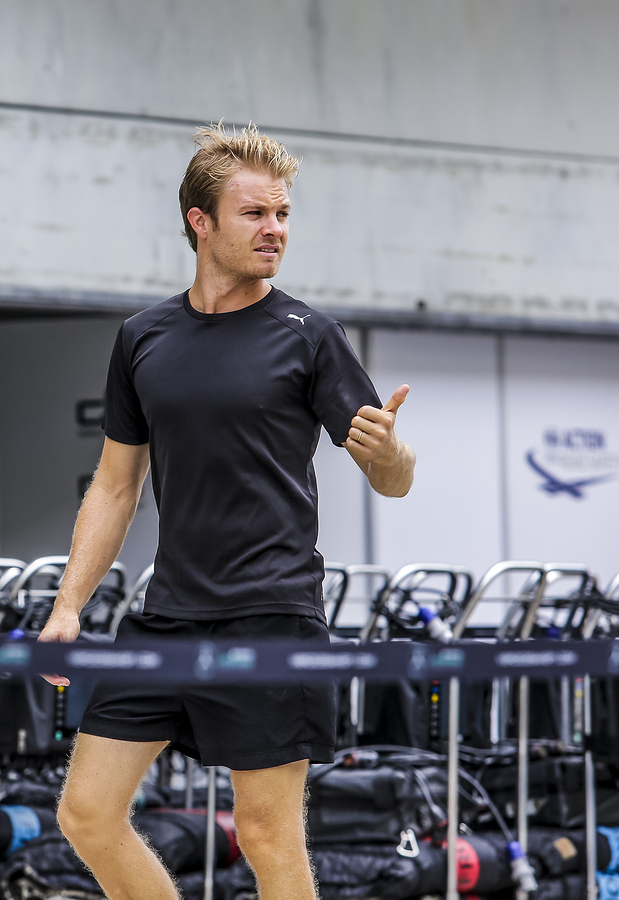 However, Rosberg was only able to really convince during his time at Mercedes from 2010, where he was able to clearly set himself apart from his teammate and friend Michael Schumacher. Just with that he made the Formula 1 world aware of himself, as it earned him a lot of prestige to dominate the seven-time world champion in qualifications and races in such a way. Between 2012 and 2013 he also provided bright spots within his team, which had suffered severe setbacks after the takeover of Brawn GP by Mercedes, by even being able to secure the pole position several times. However, he often lost the good positions he had achieved in qualifying because the Mercedes car was significantly faster in qualifying than over the entire race distance. In the 2013 season, two victories were one of his greatest successes at Mercedes.
His successes were also reflected in his Salary again, as he earned 11 million euros in the 2013 season just for driving (advertising deals, etc. are not included). In July 2014, he was able to extend his contract with Mercedes prematurely for a further three years, which earned him an annual salary of 15.72 million euros. But this deal was also to be prematurely extended by two years in July 2016 and brought with it a salary increase. As the reigning world champion, he would have collected 45 million euros for two years and would have become one of the top earners in the racing circuit.
World champion and end of career in 2016
Nico Rosberg is Formula 1 World Champion 2016! He was able to secure the title against his Mercedes team-mate Lewis Hamilton in the season finale on the last day of the race in Abu-Dhabi by finishing second.
After winning the great title and winning the world champion title, the German ended his career as a Formula 1 driver after 10 years. We wish Nico all the best for his future and are curious to see if and where he will soon be earning money again. He would probably have provided for his old age with his fortune.
World champion! pic.twitter.com/SwOEjrYeAL

– Formula 1 (@ F1) November 27, 2016
What does Nico Rosberg call his own?
Nico Rosberg lives in Monaco and has one there Condominium near the port of Fontvieille. The choice of residence was not made in Monaco by chance. Because he grew up in Monaco as a young boy. Here he also went to elementary and secondary school. The fact that Rosberg grew up in Monaco it is also owed that he speaks fluent Italian, French, English, German and a little Monegasque. In Monaco he often meets with Felipe Massa, who also lives there, to play football. Nico also owns a country house on Ibiza.
Image sources
Photo with girlfriend: Landmark / PR Photos
Portrait: Insidefoto / PR Photos
Abdul Razak Latif / Bigstock.com

Visit site for more useful and informative articles!