The 10 highest paid TV actors of 2015
Someone should say again that TV actors cannot earn a nose that is as golden as film actors. In the comedy sector in particular, many US actors were able to look forward to some really horrific fees. Our number 1 TV comedy star was even able to take home a salary of 29 million US dollars. This is mainly due to the fact that the sitcoms and TV shows in which these stars participate have developed into international export hits. Because many of these shows can also look forward to a considerable fan base abroad.
These are the 10 highest paid TV actors in 2015
9

Simon Baker: $ 12 million earnings in 2015
With two famous TV actors tied to 9th place, it's not ranked 10th today. One of them is Simon Baker, an Australian director and actor. For his leading role in the TV production "The Mentalist" he was even nominated for an Emmy and a Golden Globe. From "The Devil Wears Prada" to "America's Most Wanted", Simon Baker has already celebrated impressive successes on the big screen.
8th

Patrick Dempsey: $ 12 million earnings in 2015
Patrick Galen Dempsey is the TV doctor par excellence who has women at his feet. In his role as Dr. Derek Shepherd won the hearts of Grey's Anatomy fans worldwide. Dempsey can now also be seen regularly in the cinema and as an advertising star. "Sweet Home Alabama – Love in a Detour" is just one of his many films, which should also have delighted his female fan base.
7th

Ray Romano: $ 15 million earnings in 2015
"Everyone loves Raymond" is the sitcom that Ray Romano helped produce and that made him famous in Europe. In the past, Ray even received an annual salary of 50 million US dollars, which made him the highest paid TV actor in 2004. In the meantime he is still lagging behind in 7th place, but show business is simply indispensable. For example, the comedian, whose family comes from Italy, helped set the Ice Age films to music.
6th

Jon Cryer: $ 15 million earnings in 2015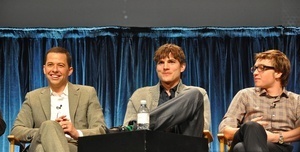 The actor, screenwriter, author and film producer only brought out his book "so that happend" in spring 2015. The German fans should be familiar with Jon thanks to his role in the sitcom "Two and a Half Man". In 2009 he was even able to win the coveted Emmy for best supporting actor. With his earnings of 15 million US dollars in 2015 alone, Jon Cryer is also one of the best-paid comedy stars on US television – especially when you calculate his earnings down to the number of TV episodes.
3

Ashton Kutcher: $ 20 million earnings in 2015
Who doesn't know him? Ashton Kutcher wasn't just on everyone's lips thanks to his relationship with Demi Moore. As a show host and advertising model, the beautiful Ashton has also made an appearance. In addition, he is not only successful on TV, but also on the big screen. He made his breakthrough with "The Wild Seventies" and has since been able to delight fans around the world with a lot of incredibly good entertainment.
3

Kunal Nayyar: $ 20 million earnings in 2015
Kunal Nayyar is a British actor with Indian roots who has achieved great success in the United States. As it turns out, he is by no means the only TV star who got rich and famous from the sitcom "The Big Bang Theory". Things are also going very well for Kunal in his private life. Because in December 2011 he was able to marry the former Miss India, his current wife, Neha Kapur.
3

Simon Helberg: $ 20 million earnings in 2015
Simon Helberg has to share third place with several fellow actors. In addition to his role in "The Big Bang Theory," one of the most successful TV formats in recent years, Helberg is not only active as an actor, but also as a voice actor, comedian, producer, author and director.
3

Mark Harmon: $ 20 million earnings in 2015
Mark Harmon is actually called Thomas Mark Harmon and is known not only as an actor, but also as a director and successful television producer. Not only in the USA, but also in Germany, he is particularly celebrated for his role in Navy CIS, which he took up for the first time in 2003. In the meantime, the actor is not only on the road as Special Agent Gibbs, but was even allowed to produce the 6th season of Navy CIS. That probably explains his earnings of 20 million US dollars in 2015.
2

John Galecki: $ 27 million in earnings in 2015
Between our number 1 and John Galecki there is definitely a friendly atmosphere among the competition. Because both actors appear in the hit show "The Big Bang Theory" and were nominated for an Emmy at the same time. Although John Galecki had to admit defeat to his colleague, he was able to secure second place in our ranking with a salary of 27 million US dollars in 2015.
1

Jim Parsons: $ 29 million in earnings in 2015
Jim Parsons is successful all over the world with the US sitcom "The Big Bang Theory" by successful producer Chuck Lorre. For his star role as Dr. Sheldon Cooper he has even won four Emmys and a Golden Globe. There can hardly be a higher award for a TV actor. Now the Texan with his insane salary is also way ahead in our ranking.

Visit site for more useful and informative articles!