VideoByte BD-DVD Ripper – Convert DVD to MP4 Fastly and Easily
Unlike those common media files which can directly find some online converters to convert among different formats directly, if you want to rip and convert a DVD disc to common formats such as MP4, you will surely need help from third-party DVD ripping software.
Although there are many different options provided online, you can still select the best free DVD ripper for yourself based on your own needs. Today, this review will introduce VideoByte BD-DVD Ripper, a professional DVD ripping software to convert DVD to MP4 or other 300+ formats of high quality. Now, let's have a look.
What Is VideoByte BD-DVD Ripper?
VideoByte BD-DVD Ripper is mainly developed for Windows and Mac users to rip media saved in DVD or Blu-ray discs to common media formats such as MP4, MOV, MKV, and so on. When people are more likely to play videos/audios using portable devices like their mobile phones, tablets, MP3 players, even smart watches, it would be more inconvenient to bring a DVD hard driver everywhere to connect and play DVD discs. As a result, software like VideoByte BD-DVD Ripper will be highly required to convert DVDs to media formats in advance.
How VideoByte BD-DVD Ripper Converts DVD to MP4
It seems a very skillful work to convert DVD to MP4. Actually, the principles of this process would be complex. But with VideoByte BD-DVD Ripper, the way for us to do it can be quite simple! You only need several clicks and the DVD discs can be directly converted to MP4! Now, you can read the tutorial below and know how to operate exactly.
Step 1. Insert DVD and Load It in VideoByte BD-DVD Ripper
To get started, you need to install VideoByte BD-DVD Ripper on your Windows/Mac computer first. Once the software is ready, open it and also insert the DVD you want to convert to MP4 to the computer. Then select "Load DVD" and click "Load DVD Disc" in the software to import media from DVD.
Step 2. Select DVD Titles and Audio Tracks/Subtitls
After adding the media from DVD disc to VideoByte BD-DVD Ripper, you can click "Full Title List" and select those chapters you want to convert as common MP4 files and save offline. If you skip this selection, all of them will be converted by default.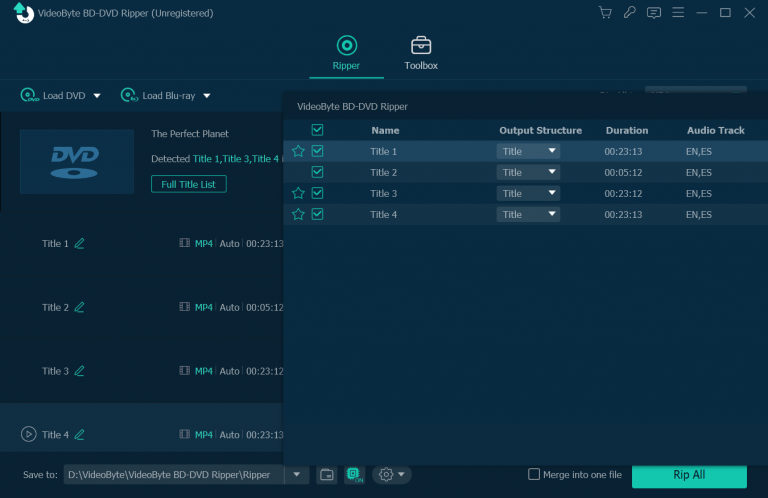 Under the imported media in the list, there are also audio tracks and subtitles provided for you to select. Just choose the ones you want to convert with the media here based on your needs.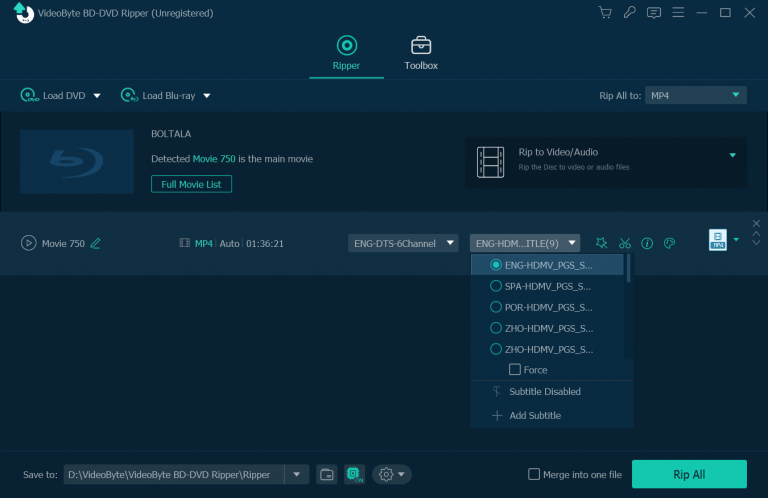 Step 3. Set Output Format and Quality
Now, by going to the top-right "Rip All to" format menu, you can find MP4 option. Select it and then there will provide different quality options to let you select converting DVD to. You can choose the one you need based on their "Encoder", "Resolution", and "Quality".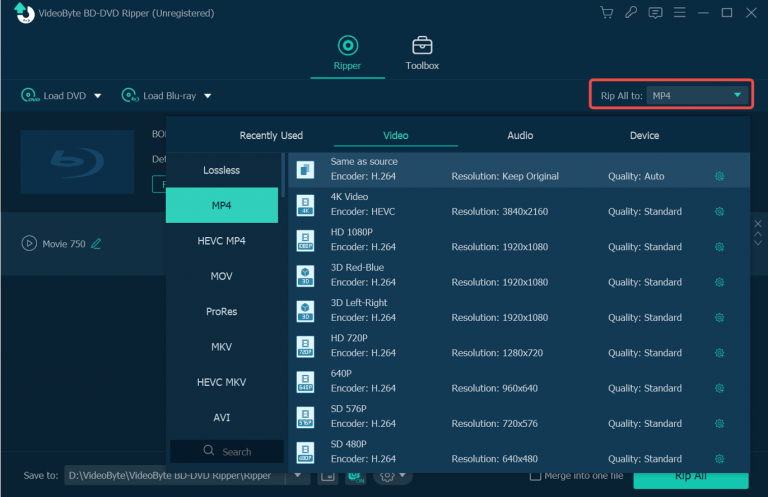 Step 4. Start Converting DVD to MP4
Finally, when the format and quality settings are also finished, you can begin converting DVD to MP4 by pressing the "Rip All" button. When it is finished, the saved MP4 videos can be transferred to any device and played without a DVD hard drive connected anymore!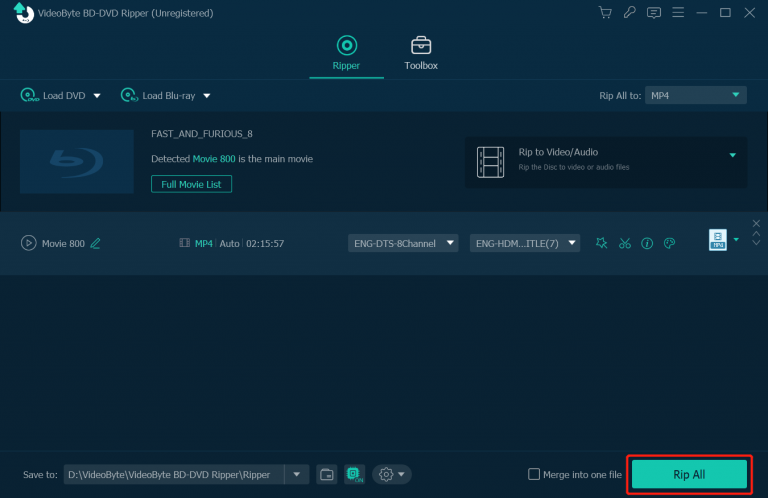 Why VideoByte BD-DVD Ripper Is Popular?
Actually, VideoByte BD-DVD Ripper has attracted a lot of users from all over the world. The reasons making the software so popular have the following ones.
Support All DVD/Blu-ray Discs
The most powerful feature of VideoByte BD-DVD Ripper should be its ability to rip all DVD or Blu-ray discs, including those have been added protections like APS, CSS, ARccOS, CPRM, AACS, BD+, and Cinavia. So no matter what discs you load in the software, it can work to convert them to common media formats for you directly.
Provides 300+ Video/Audio Formats
To make the converted DVD videos can be played on different devices or using any player you installed, VideoByte BD-DVD Ripper has offered 300+ video as well as audio formats for you to select freely. Those very popular options such as MP4, MKV, MOV, and so on can be chosen. The software also provides some popular devices like Apple, Samsung, etc to let you directly select and convert DVD to their supported formats!
Keep Original Quality to Convert DVD/Blu-ray Discs
Another great benefit of VideoByte BD-DVD Ripper should be its powerful ability to keep original quality while converting the DVD or Blu-ray discs. It will save the converted videos at 1:1 ratio with original video as well as audio effects. There are also lossless formats supported if you want to enhance the quality to a higher state to enjoy offline.
Save All Audio Tracks and Subtitles
To control the video playback more conveniently and enjoy the original playback offline, VideoByte BD-DVD Ripper will also detect and save all the audio tracks and subtitles equipped with the DVD/Blu-ray media. You can choose to save them all or just select those options you need based on different needs.
VideoByte BD-DVD Ripper 30-days Free Trial
Now, VideoByte BD-DVD Ripper has offered a 30-days free trial for you to convert DVD to MP4 with original quality at no cost at all. You just need to install the software and then directly open to use it. But you still need to pay attention to some limitations during this period:
You can only convert 5 minutes of each DVD/Blu-ray item
There are only 5 discs can be ripped during the free period
Those in-built tools such as Media Metadata Editor, Video Compressor, and GIF Maker can be used for 5 times for each
But these limitations can all be removed once you have ordered the upgraded version and activate the software. So after using the free trial, if you feel like using it in a long time, you are recommended to register its upgraded plan.
In Conclusion
If you want the simplest but most professional way to convert DVD to MP4 at fast speed but no quality loss, VideoByte BD-DVD Ripper will be the best option for you.