Wladimir Klitschko: assets and fees in his boxing matches
How much does Wladimir Klitschko earn?
Wladimir Klitschko is the younger of the two Klitschko brothers and former Heavyweight boxing champion. He lives in Germany and the USA and is, also due to his intelligence and eloquence, an extremely popular athlete and conversation partner who, in connection with his older brother Vitali Klitschko and his political activities in the brothers' homeland, is now also an expert on international politics is applicable. When he became a professional in 1996, he played a total of 69 boxing matches, in which he was the winner 64 times (54 knockouts). Wladimir was the heavyweight world champion from 2000-2003 and from 2006-2015.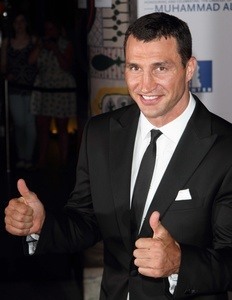 The Wladimir Klitschko's fortune is estimated at around 55 million euros, although this is generally difficult to estimate with boxers. What is certain is that Wladimir Klitschko was able to earn around 5-15 million euros for a single fight, but he has to pay his trainers and supervisors and make his entire living.
Wladimir Klitschko and his brother are often active in commercial advertising ("Milchschnitte"), although little is known about the fees for such appearances. He also appears as a co-commentator at boxing events that are broadcast on television. He has also acted in films. The brothers have now made a film about their own lives in which they are also active on the screen.
When will Wladimir Klitschko box again?
Unfortunately there will be no further fight. After his last defeat in the world championship fight against Anthony Joshua, the exceptional athlete took the time off he needed to finally find out that he was ending his long boxing career.
How he became what he is:
Wladimir Klitschko was born in 1976 as the son of a Soviet high officer Born in what is now Kazakhstan, but is of Ukrainian descent. He became a boxer at a very early age and won 192 of 198 fights as an amateur. His enormous size, agility and clout even led him to Olympic victory in 1996: the path to a professional career was open.
Boxing stables from all over the world vied for the unique giants from the east who were frightening on television, but a German stable won the race and the brothers moved to Hamburg, where they made a career together: Whenever one brother boxed, the other brother followed him . The Vow never to compete against each other, the brothers kept despite incredible offers, as they promised their mother this. Nevertheless, today Wladimir Klitschko is considered one of the wealthiest athletes in the world, especially since his career is not over yet.
An incredible career
Wladimir Klitschko did in his career 69 fights as a pro disputed, only lost five of them and won 54 fights prematurely by knockout. He is the undisputed number 1 in the premier class of boxing and is currently considered almost invincible, although of course he is also subject to a certain aging process.
His greatest successes are difficult to enumerate. Klitschko defeated his, at least as portrayed in the press greatest rival David Haye from Great Britain just as confident as numerous ex-world champions from the USA. Perhaps his greatest success is that the trade press was of the opinion for a long time that he no longer had any reasonable opponents: the dominance of the Klitschkos was too great and too few opponents have not yet lost out to one of the two brothers. The opinion should last until November 2015.
How much money does Vladimir really have? He is so rich:
Wladimir Klitschko is likely to have taken in more than € 120 million in fees via combat exchanges. These have to be taxed, however, management and entourage have to be paid by the fighter himself. No figures are known about the advertising income; the 55 million euros mentioned at the beginning should come very close to the truth, especially since the athlete not a dissolute lifestyle maintains.
Vladimir and his brother have Bought numerous land and houses in Ukrainewhose value cannot be estimated for obvious reasons. He owns a mansion in the United States. Plus he still has one Contract for several fights, which should wash millions more into the pockets of the personable boxer. The extent to which his commitment to his brother's political cause will cost him money is one of the Klitschkos' secrets.
Which titles and belts did Wladimir Klitschko hold as world champion?
Until 2015, Wladimir Klitschko held the titles of the IBO, IBF, WBO and WBA boxing associations
The WBC title, which the brother Vitali held, was put back because of his political commitment at the end of 2013. Wladimir really wants this fifth title, but it was first played between the boxers Bermane Stiverne and Chris Arreola, with the Canadian Bermane Stiverne victorious in the 6th round by a knockout. Because the IBF title defense last took place in July 2012, Wladimir first had to do the compulsory part against Kubrat Pulew meet in order to then compete against the WBC title regent Deontay Wilder. The fight against Pulew took place on November 15th, 2014 and Klitschko won with a knockout victory. In between there was a fight (April 25, 2015) against Bryant Jennings held, from which Klitschko also emerged as the winner. HBO has secured the rights for 2 boxing matches and should therefore after the fight against Bryant Jennings yet another fight will take place in the US. Whether it's a super duel against Deontay Wilder but remains to be seen.
The lost title after fighting Fury
Before the fight could take place, however, the gong rang out against the Englishman Tyson Fury, who was the WBO Association mandatory challenger on November 28, 2015. Unfortunately, the fight did not end well for the Ukrainian and so he lost all his titles over 12 rounds due to a point decision in favor of Tyson Fury. A rematch was an official part of the contract and was originally scheduled for July 9, 2016. However, due to depression, drug use, and other excuses from Fury, the fight never came and he ultimately has to put his belts back.
The world championship fight against Anthony Joshua
Klitschko's last fight to date took place on April 29, 2017. At London's Wembley Stadium, he played against Anthony Joshua which is considered an absolute knockout machine. Because he won all of his 18 professional fights with a knockout. He was also able to show his class against Vladimir and so he sent the Ukrainian on the boards in the eleventh round – technical knockout
A total of 90,000 spectators watched the fight live at Wembley. 10 million euros were raised from the tickets sold alone. In addition, there was pay-per-view income of EUR 30 million. International TV marketing brought in a further 8 million euros and sponsors and merchandising added another 1.2 million euros in fees. The total pool for the Klitschko vs. Joshua fight was over 50 million euros. We can only estimate how much Vladimir got paid out as the loser of the fight. We think that 15 million euros went to Klitschko's account.
Image sources:
Landmark / PR Photos

Visit site for more useful and informative articles!