Help Yourself To Organize Life – try Digital Planners
A digital planner is a helpful, easy-to-use, and practical thing designed for effective time management, planning your schedule, and keeping track of tasks. Now, instead of an outdated paper diary or installing third-party software, you can download your personal planner and use it directly on your tablet. Be sure to check out our selection of Digital Planners and choose your option.
Among the benefits you get is a hyperlinked page structure with clickable tabs and buttons, which ensures comfortable management and effective planning. Works with Apple iPad and Android devices. Compatible with Goodnotes, Notability, Xodo, Noteshelf, and other note-taking apps.
Let's take a closer look at some popular planners and find out why they will be useful to you and how they can positively influence your life, work, study, sports, or any other activity.
Daily Digital Planners, Weekly and Monthly Digital Planners
Whatever everyday tasks await you, you can always count on the help of your planner. Make a personal schedule for a week or a month in advance, set priorities, plan to-do lists, check what tasks are on a given day, track events on the calendar, take notes, write down ideas, thoughts, and reminders in a notepad, etc. Such planners are a very useful tool that can really make you well-organized, attentive, and productive, and when put together, this is a sure way to achieve success!
Goal Digital Planners and Productivity Digital Planners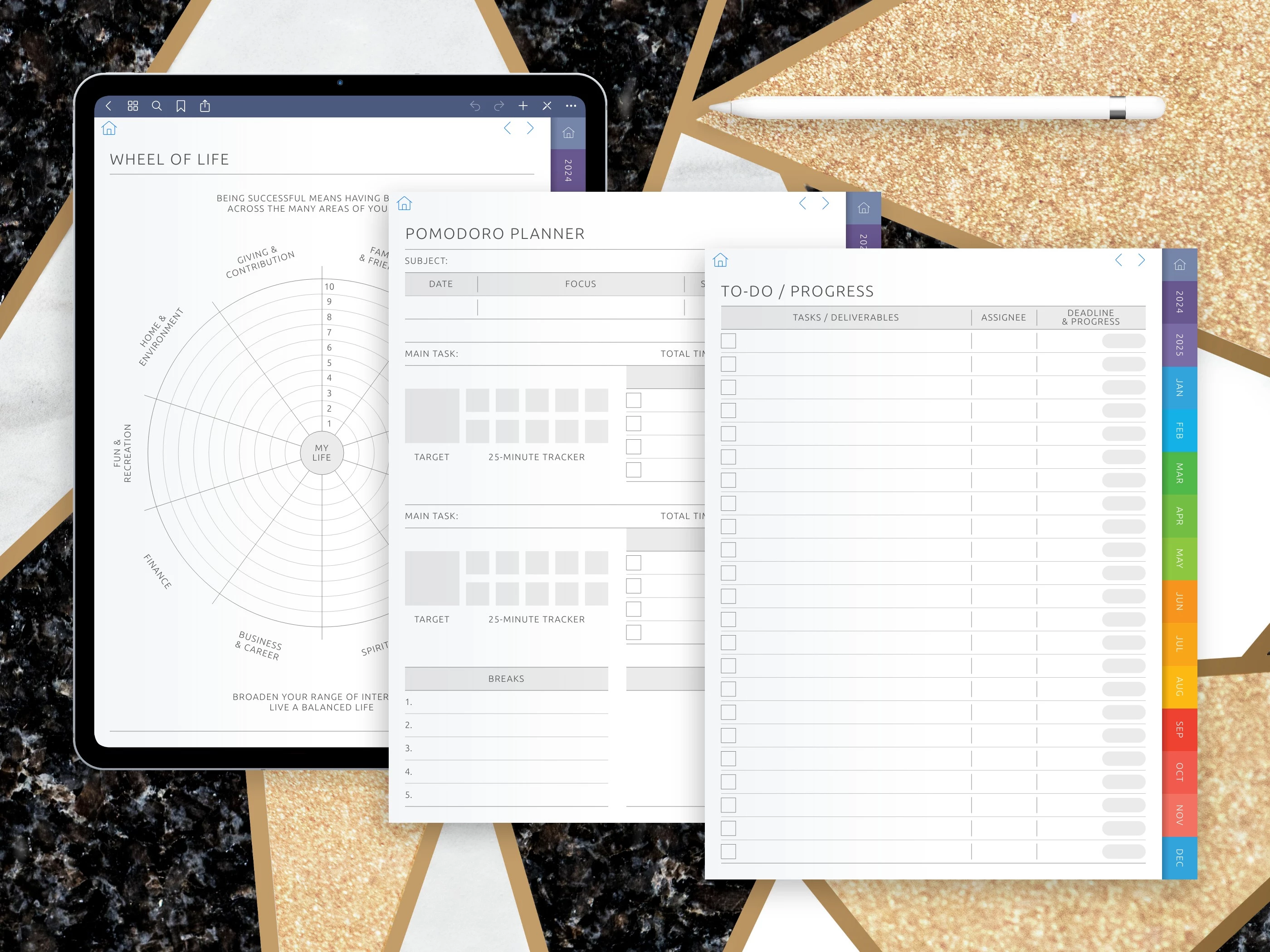 There are no unattainable goals, there are only limitations in our heads. Believe in yourself, set goals, and follow them step by step, and a goal planner will help you with everything else! Plus, to make it easier for you to achieve your objectives use a productivity planner. It is a great solution for organizing your daily schedule and getting that much-needed motivation.
Budget Digital Planners, Work & Business Digital Planners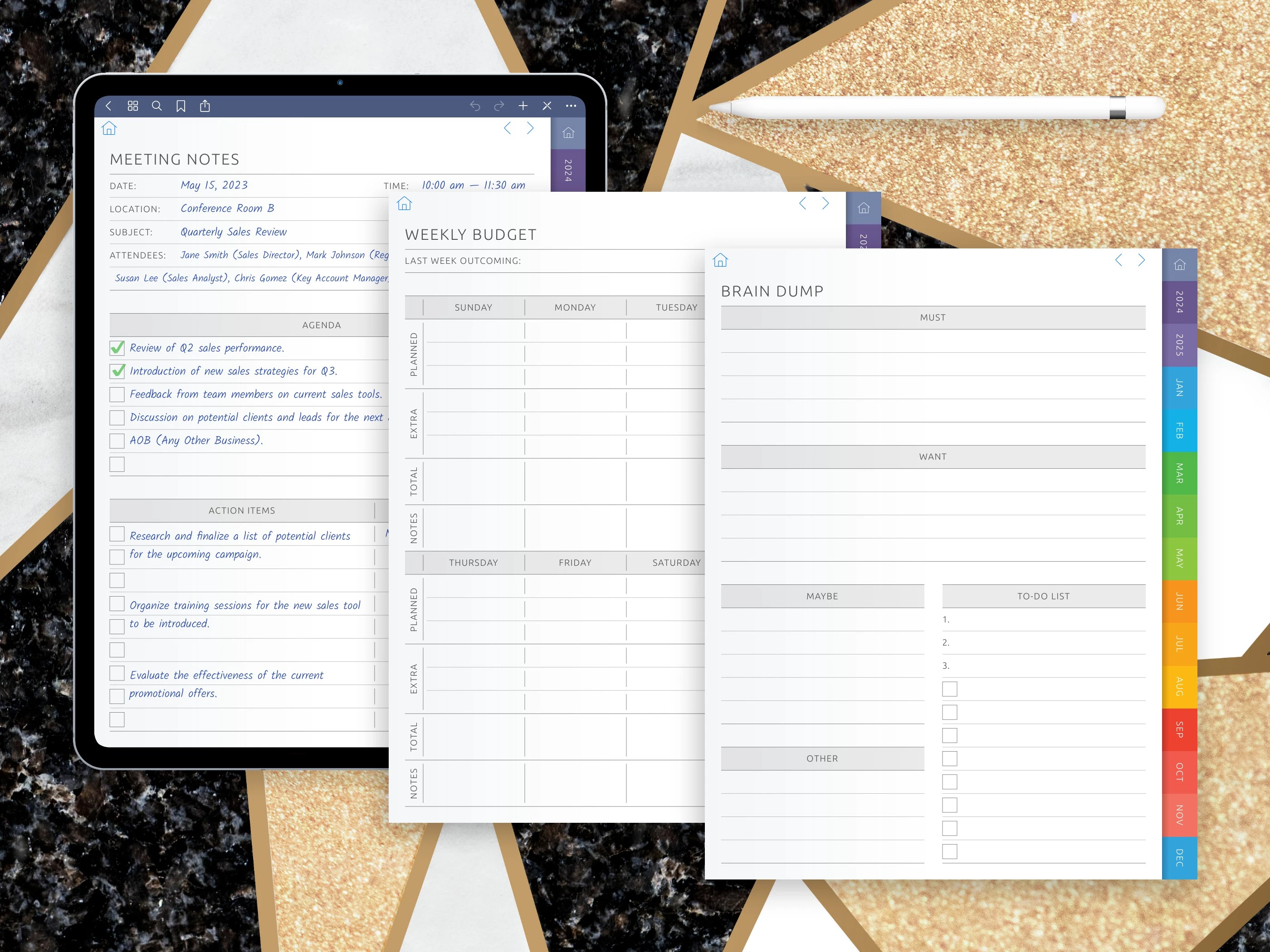 Conveniently manage your budget, plan business tasks and control work matters. After purchasing these planners, you will get useful layouts like a budget plan, savings, income/expenses, bills tracker, year overview, to-do list, weekly schedule, project plan, get things done guide, meeting notes, contacts list, client profile, quarterly focus, brain dump, mind map planner and others.
Meal Digital Planners, Fitness Digital Planners, Wellness Digital Planners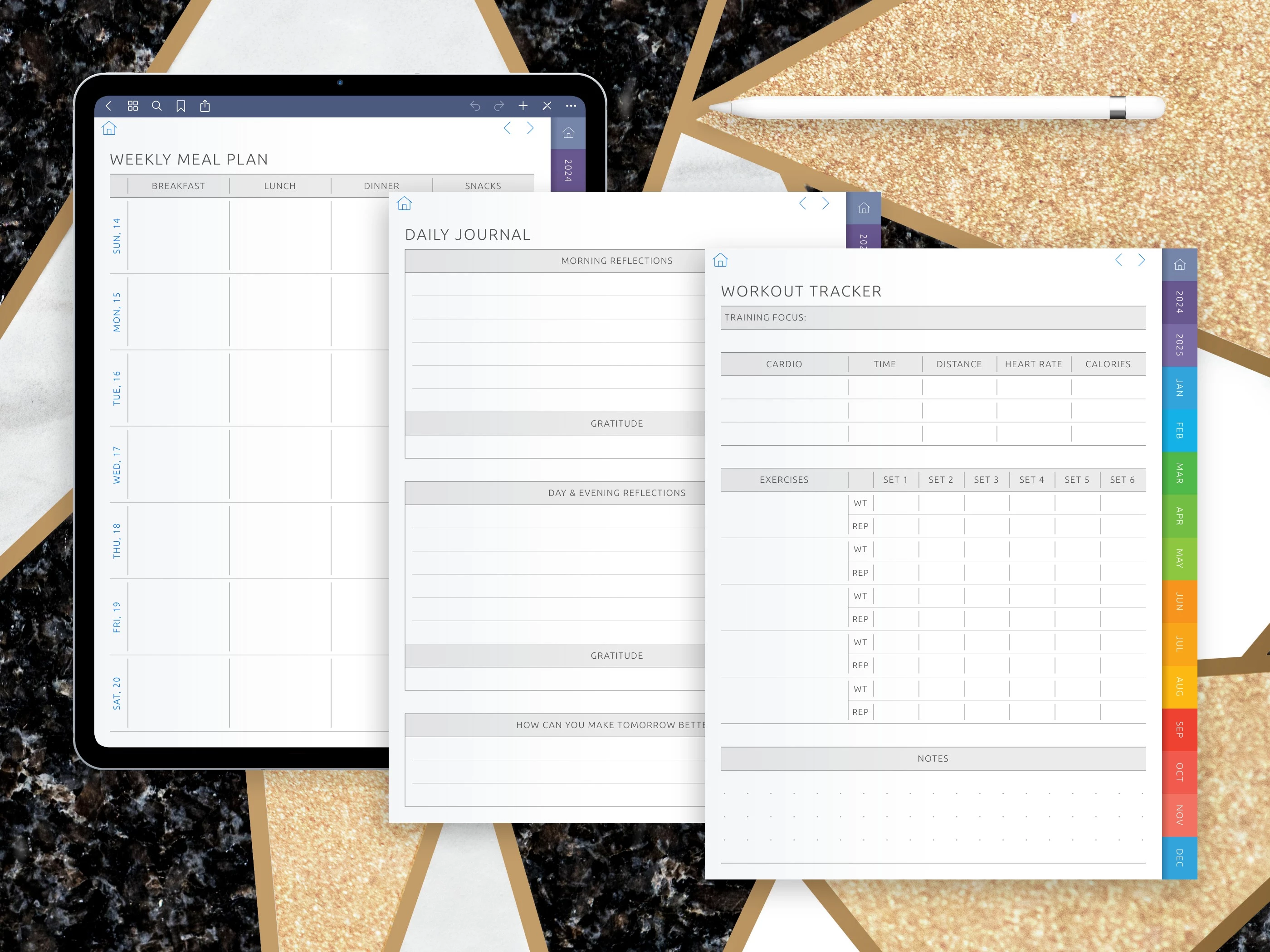 Plan your meals, monitor your fitness training, and control your health. Planners are designed to help you maintain a healthy lifestyle and stay fit. They contain everything you need to achieve your goals, from a habit tracker and daily nutrition plan to a detailed body & weight tracker and a full-fledged workout planner.
Digital Student Planners and Digital Teacher Planners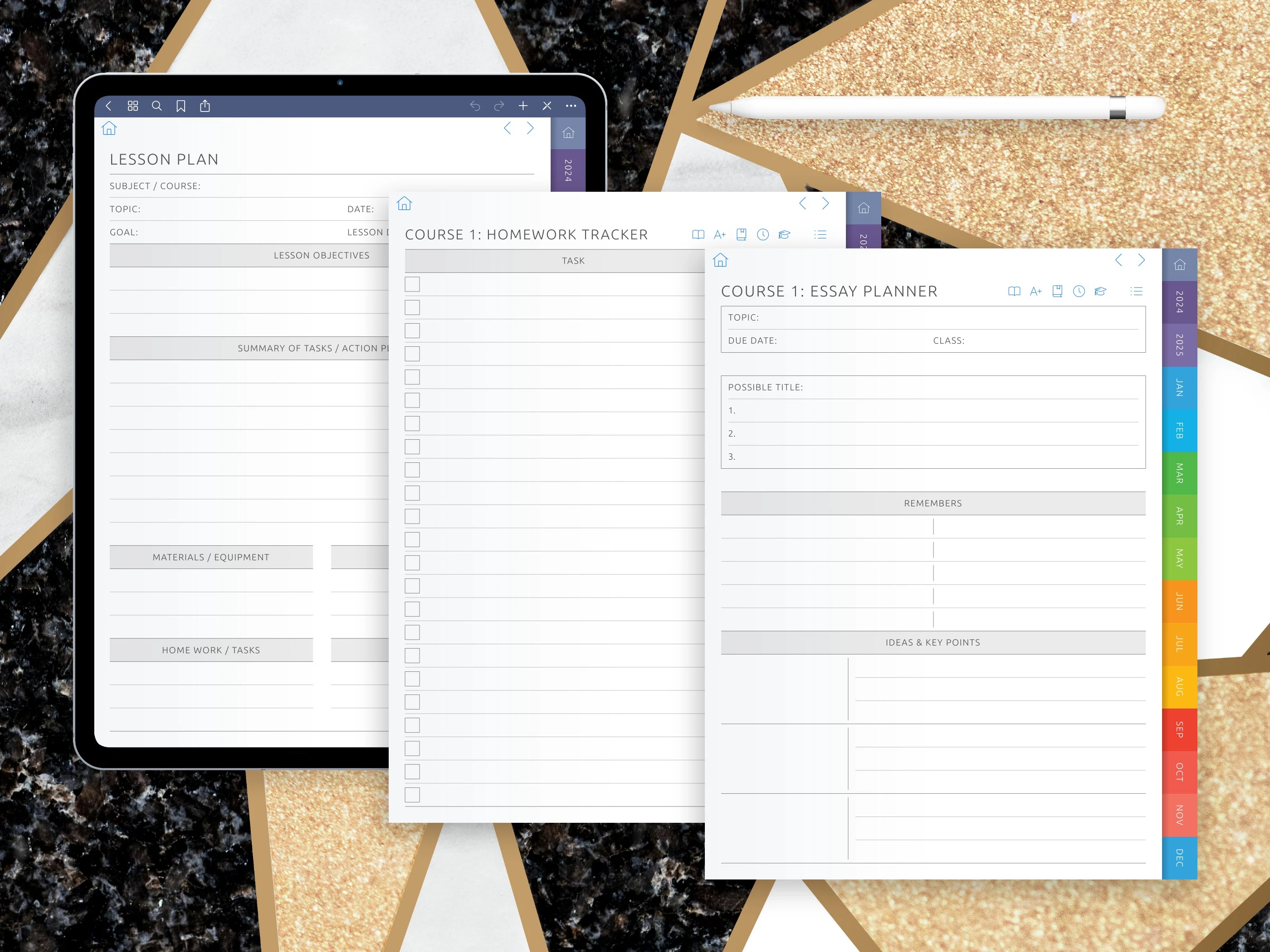 Teachers will be able to simplify their workflow, easily manage their classrooms, create individual lesson plans, properly structure their own schedule, set up seating charts, keep a behavior log, organize meetings, gatherings, and events. In turn, students will be able to develop their own academic path and curriculum, use budgeting tools, manage social networks, track workouts and nutrition, keep a grade diary, and track completed homework, upcoming exams, and coursework.
Conclusion
Absolutely every planner is created so that you can accurately distribute your time, plan your schedule, and monitor current tasks and the progress of their implementation. It is a good solution for people who want to change their lifestyle for the better, successfully cope with work and everyday life, achieve their goals in any direction, and simply be on top in any situation.
Choose the planner you like, customize it to your preferences, and download the PDF file to your device. If you use an iPad or Android tablet, you can upload the planner to your handwriting app, including Goodnotes, Notability, Xodo, or Noteshelf. If you are the owner of one of the reMarkable, SuperNote, BOOX Note Air, or Kindle Scribe devices, configure the necessary settings in the same way and download your new planner to your tablet.
Enjoy a high-quality page structure with hyperlinks, active tabs, and buttons. Manage your organizer and assistant with pleasure, effectively planning and tracking tasks. We hope that this will be useful for you and will help you effectively set priorities, achieve goals, and realize your desires.