Lukas Podolski net worth and salary
How rich is Lukas Podolski?
Lukas Podolski, who was born in Gliwice, Poland in 1985, is not one of the richest footballers in the world, but he can get along with a former player Annual salary of 8 million euros net, which he earned at Vissel Kobe, certainly not complain. At the beginning of 2020, the Kölsche Jung signed with Antalyaspor and probably earned 3 million euros there. 1. FC Köln announced that he will definitely hold a position in the club after his career has ended. In autumn 2021 he will be on the jury for the RTL show "Das Supertalent". Other show formats are also planned for the next three years. The era as a professional footballer is Poldi at Gornik Zabrze in the Polish league, near his birthplace. He signed for one year + an option for another in the summer of 2021.
More income he got through numerous advertising deals, especially with the German company adidas, bring about a million, so that he can increase his annual income to around 5 million euros. During his second time at FC Köln, a lucrative advertising deal with Ford for the new Kuga model was part of it. For the games for the German national team he received a additional income in the six-digit range / year. According to our projections, Lukas Podolski's fortune is around 30 million euros.
Businessman off from soccer ball
Ice Cream United: Ice cream parlor in Cologne
In the Belgian quarter in Cologne, Prince Poldi opened his own ice cream parlor on June 24th, 2017. Under the cool name "Ice Cream United"The superstar is now selling ice cream. Although he is not behind the counter himself, he financed the project together with his business partner Christian Gaier, who comes from a traditional ice cream family. The second branch on Heumarkt followed in May 2018. (Footballer shares: 75%)
Strassenkicker: own fashion shop
Poldi opened his first store in Cologne on November 8th, 2015. The footballer sells his own fashion on the Alter Markt under the hip "Strassenkicker" label. The name says it all, because the concept comes from Lukas and he keeps coming up with new ideas. Our own shower gels followed in 2018.
Mangal LP10: kebab shop
On January 6, 2018, Podolski and Metin Dag opened a kebab shop under the name "Mangal Döner LP10" in Cologne city center. The concept worked wonderfully, so that there are already 5 Mangal kebabs in Cologne and one kebab shop in Bergisch Gladbach and another in Bonn. Obviously, the businessmen have succeeded in establishing a new fast food chain, which is to be expanded even further in the future. In addition, since autumn 2020 the "Filet der Straße" has also been available in the frozen food compartment of supermarkets and, since 2021, the chips with the name "The Snack of the Street". A wise investment by the footballer. (Footballer's shares: 50%)
MyShot
At the end of 2020, the MyShot.de project was launched, where healthy superfood shots are produced. Will this concept celebrate similar successes? (Footballer's shares: 50%)
property
In addition to the many business activities, the prince also owns a large number of properties. All of the money is therefore very broadly diversified and invested wisely.
RTL fees; The super talent + other TV formats
In autumn 2021, the street footballer will be seen for the first time in the jury of the successful RTL format "Das Supertalent". He will judge the talents alongside Chantal Janzen and Michael Michalsky. At RTL, he is said to have signed a three-year contract, according to Bild Informations, and to collect a total of 6 million euros for it.
The career of Prince Poldi
At the age of just six, the young Lukas started his football career in the as the son of a professional football player Youth department at Jugend 07 Bergheim (near Cologne)until he finally moved to the youth department of 1. FC Cologne just four years later due to his manifest talent. Like many of his teammates, Podolski played in the youth teams of a first division club at a young age. A particularly strong season that he delivered there was the 2003/04 season, in which he was able to score eight impressive goals. During that season he signed with his Heart club FC Cologne the first professional contract. In the new professional season he was able to increase the number of his goals by two and so he got ten goals in just nineteen games. Although the strength of his club suffered in the meantime, whereby the club was temporarily relegated to the second Bundesliga, Podolski continued to show a very strong game.
Bayern Munich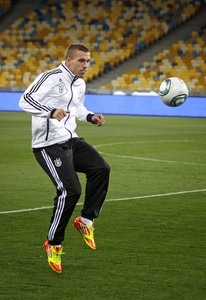 Podolski was already at 1. FC Köln Advertising medium for the sporting goods manufacturer Adidas, for which, among other things, he is still promoting and Through these advertising deals alone, around one million euros per year occupies. Thanks to Podolski's skills, the FC Bayern Munich noticed him, who replaced him for ten million euros. But he should never really flourish at this club and so it happened that he returned to his ex-club in Cologne in the summer of 2009 – for the same transfer fee. After initial problems to make a name for himself there again, he played a particularly strong season in 2011/12 and scored 18 goals.
Via Arsenal London to Istanbul
Just a year later he moved to Arsenal FC in London and, if you look at sales of merchandising items, it was one of them most popular football players in England. In the summer of 2013, national team colleague Mesut Özil also switched to the Gunners and played alongside the Cologne prince for a short time, as did Per Mertesacker. Together at Arsenal, the Germans enjoyed the nickname "German Gunners". Unfortunately, in 2014 Poldi did not really come to play under Arsene Wenger and so he was awarded to Inter Milan during the winter break. Lothar Matthäus even accused him of tweeting more than playing football. But Inter Milan wasn't happy with the footballer's performance either. Galatasaray Istanbul endeavored to sign the German and has disclosed all contract details. For a transfer fee of 2.5 million euros, he moved to the Turkish capital and quickly became a crowd-pleaser there. In total, the "street kicker" was at the Gala for 2 seasons and earned 3 million euros / season there. (2015/16 and 2016/17)
Change to Japan and a mega salary for Poldi
At the beginning of March 2017 it was announced that Lukas Podolski would be transferring from Galatasaray Istanbul to Vissel Kobe in the Japanese J-League in the summer for a transfer fee of 2.6 million euros. The wealthy Japanese offer the footballer a lucrative contract. According to BILD, he should be able to earn up to 8 million euros net per season and have been committed for 3 years. For the footballer, this is the best contract of his life, which ended in early 2020 and was not renewed.
Back to Turkey: Antalyaspor
Poldi returned to the Turkish Süper-Lig in January 2020 and switched to Antalyaspor, which he should save from relegation. Nothing is known about the exact details of the contract, but we are assuming a salary of around 3 million euros.
End of career at Gornik Zabrze?
The contract in Turkey expired in summer 2021 and the journey continues to Poland to Gornik Zabrze. The club is near his place of birth, Gliwice, and was Poldi's dream destination to end his professional career. He signed for one year + an option for another in the summer of 2021.
National team
Podolski has been part of the German soccer team since the end of 2004, where he had already played a convincing season in 2005 and particularly impressed during the 2006 World Cup with his fellow players Bastian Schweinsteiger and Miroslav Klose. Equally successful was his game in the qualifying rounds for the 2006 European Championship, where he scored eight goals. On the other hand, he should set an incredible record in 2013 in the game against Ecuador, where he scored the first goal after just nine seconds. And Poldi was also there at the 2014 World Cup in Brazil and was able to win his world champion title. Prince Poldi also wrote his own book about his path to professional football with a foreword by national coach Jogi Löw. On August 15, 2016, he announced his official end of career in the national team.
His greatest successes
German national player (World Champion 2014, third place in the 2006 World Cup, 2010, European Vice Champion 2008)
FA Cup Winner 2014 (Arsenal FC)
German Champion 2008 (FC Bayern Munich)
DFB Cup winner 2008
Turkish Cup Winner 2016 (Galatasaray Istanbul)
Japanese Cup Winner 2019 (Vissel Kobe)
Image sources:
Insidefoto / PR Photos + katatonia82 / Bigstock.com

Visit site for more useful and informative articles!