Madonna's incredible fortune
How rich is Madonna really?
Madonna has been delighting audiences for an unbelievable 30 years. She is one of the best known and most successful singers of all. Over the course of her long career, she has received countless awards, including 10 Grammies and 2 Golden Globes. It goes without saying that she was inducted into the Rock'n Roll Hall of Fame a long time ago. Madonna sold altogether throughout her career 270 million records and has been one of the singers with the highest income for many years. Forbes business magazine estimated peak income to be over $ 75 million a year. Madonna comes up with something estimated assets of around 725 million euros.
An incomparable career
Music, dance and acting have accompanied Madonna from childhood. During her school days she took piano and dance lessons, was in theater groups and did cheerleading. Her dance teacher Christopher Flynn in particular recognized her talent early on and took her to theater performances and events and even to the gay clubs in Rochester. In one of these clubs she met producer Stephen Bray, who had a great deal of credit to her later hit hits.
After successfully completing high school, Madonna moved to New York. At first she kept her head above water with odd jobs with low salaries, later she got engagements as a dancer, singer and drummer for various dance groups and bands. At that time she was already writing her own songs and establishing contacts with the record industry. Their first single called "Everybody" sold 250,000 copies. Her album called "Madonna" was released in 1983 and sold 16 million times.
Always good for a scandal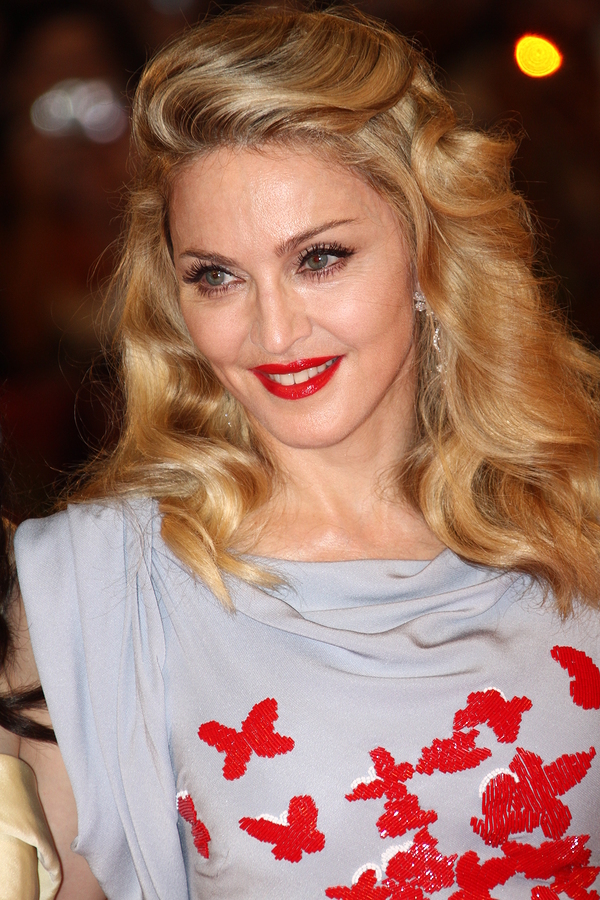 Her next single "Like a virgin" heralded Madonna's career as a "scandal noodle". When she appeared at the MTV Video Music Awards, she appeared in a white wedding dress, which sparked strong protests from the self-proclaimed moral guards. But these critical voices fueled the cult around Madonna even more. Her followers celebrated every outfit and every new provocation of hers. And of those she has presented in abundance over the years.
In 1986 her next album "True Blue" was released. It reached first place in the charts in 28 countries and sold a sensational 25 million copies. To this day, the singles that emerged from it are real classics in pop history: "Papa, don´t preach", "La Isla Bonita" and "Open your Heart".
In 1989 the album "Like a Prayer" followed. The video for the single of the same name called representatives of the Catholic Church on the scene, as Madonna used church symbols such as the cross and Jesus. The horror continued when Madonna provoked even more with outfits and sexual gestures during live performances for her single "Like a Virgin". And her video for the single "Justify My Love" also showed extreme permissiveness and indecency. All these declarations of war against prudery and church values ​​were, however, well calculated. Madonna was always in control of what she was doing. The highly intelligent entertainer (intelligence quotient 140!) Founded her first with part of her fortune Maverick production company.
At the beginning of the 90s music almost became a minor matter for Madonna. Her album "Erotica" was again strongly sexually influenced, so that it was only distributed in the USA with a note on the protection of minors. The illustrated book "SEX", in which Madonna was naked and in clear positions, was published accordingly. It sold 1.5 million times and was sold out within a few days.
In the following years the albums "Bedtime Stories" in 1994, "Ray of Light" in 1998, "Music" in 2000, "American Life" in 2003, "Confessions on a Dance Floor" and "Hard Candy" in 2008 were released. The most successful of these was that "Ray of Light" with 26 million sales.
In contrast, her album "MDNA", which was released in 2012, sold rather moderately at 2 million. The accompanying tour, on the other hand, was a great success, with the Madonna around 70 appearances, gross sales of 212 million euros could bring in. That was sure to please the concert promoter Live Nation, with whom they had signed a contract worth 112 million euros in 2007 and who are sure to have another crucial part of their high fortune could contribute.
Career as an actress
In addition to singing, Madonna's passion was always acting. In contrast to her singing career, her activities as an actress have not always been quite as successful. However, the entry went quite well. Her first movie "Susan … Desperate Wanted" was well received in 1984. This was followed by further appearances in the films "Dick Tracy" in 1990, "A Class of Its Own" in 1992 and "Body of Evidence" in 1993. In 1996 she was able to get hold of the role of Evita Peron, which she had been striving for for years. "Evita" became the most successful musical film the 90s. Madonna received a Golden Globe for best actress for this. This should remain her greatest success in acting so far. The films "A Friend to Fall in Love" and "Stormy Love", which were released in 2000 and 2002, were unfortunately not particularly successful.
Madonna's eventful private life
Madonna was born the third of a total of 6 children to her parents Silvio Anthony Ciccone and Madonna Louise Ciccone. When Madonna was just 6 years old, her mother died of breast cancer.
Madonna's relationships with men have always been complicated. Marriage to her first husband Sean Penn Lasted only four years from 1985 to 1989. After that, she had various affairs, until she met her fitness trainer Carlos Leon for three years in 1994. From this relationship comes the Daughter Lourdes Maria. For the first recordings of the child, the television broadcaster ABC reportedly paid 1.4 million euros.
In 1998 Madonna met the director at a party of her colleague and friend Sting Guy Ritchie know. The two become a couple. Their son Rocco was born in August 2000. In December of the same year, Madonna and Guy Ritchie get married. In autumn 2006 the couple visited the African country Malawi and visited aid organizations and orphanages there. In one of them they get to know the five-year-old half-orphan David and decide to adopt him. Two years later, Madonna and Guy Ritchie announce their separation. Allegedly, Madonna will pay Guy Ritchie around 77 million euros from her assets after the divorce. In this amount are also Real estate worth around 17 million euros contain.
Alone, Madonna visits Malawi again in 2009. There she meets the six-year-old orphan girl Mercy and decides to adopt her too.
Image sources:
Denis Makarenko / Bigstock.com

Visit site for more useful and informative articles!