Ringo Starr is auctioning Beatles merchandise worth 9 million US dollars for a good cause
The former Beatle Ringo Starr and his wife Barbara Bach really cleaned up. The couple parted with 1,300 fan articles and donated the proceeds from the various auctions to a good cause. That with it over $ 9 million would come together, hardly anyone would have dreamed of it. The word flea market takes on a whole new meaning. Among the highlights of Ringo Starr's collection that was now for sale were, for example, his Ludwig Oyster Black Pearl drums, for which the Beatle was famous. Exactly these drums were used in more than 200 Beatles concerts, which of course makes their value soar in the eyes of many fans. In the history of rock'n'roll, there have hardly been more important drums. So it is not surprising that it was also the fan article from the Ringo Starr collection that brought in the most money.
Jim Irsay, the owner of the Indianapolis Colts sports team, was ready to spend 2.25 million US dollars on it and to come out as a real super fan. Irsay would of course have preferred it if the Beatles had gotten back together again. But since he could not influence it, he left it at just buying one instrument from each of the Beatles members for his private collection. Irsay finally paid another US $ 910,000 for a Rose-Morris Rickenbacker guitar that had been a gift from John Lennon to Ringo Starr. It had taken more than 45 years for Irsay to reunite the Beatles, at least symbolically, with their instruments as part of his private collection. It cost him a full 4 million US dollars.
Further highlights from Ringo Starr's auction for a good cause
Ringo Starr also put other important fan articles up for auction. One of the absolute highlights was certainly Starr's personal copy of the album "Beatles" from 1968, which is also known as the "White Album" because the album bears the serial number A0000001 and is therefore a real specialty for all die-hard Beatles fans. With a price of 790,000 US dollars, a proud sum came together – no one had ever paid more money for another music album. Thus, the ex-Beatle was able to beat Elvis Presley's record. His album had only sold for $ 300,000, which set the record at the time.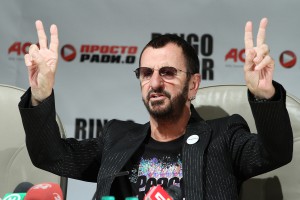 To the others Ringo Starr's ring was also a top sellerthat he always wore on his little finger during his time as Beatle. After all, this ring was worth $ 106,250 to a fan. Even the auction catalog itself, which stretched over two volumes due to the large number of fan articles, fetched $ 500. Although Starr sold off many Beatle memorabilia, including the gold record for a million copies of the hit single "I Want To Hold Your Hand," which grossed nearly $ 70,000, he retained some of the most important memorabilia for themselves. Ringo did not part with the pieces to which the musician hung with all his heart.
Still, Ringo and his wife Barbara can be really proud of the auction proceeds, much of which will benefit the Lotus Foundation. The former Beatle and his wife founded the Lotus Foundation themselves in 2004 after a violent tsunami that devastated a large part of Southeast Asia. His brother-in-law, the singer and guitarist of the Eagles, Joe Walsh, also expressed his respect for Starr. To part with such emotionally charged memorabilia is not an easy task that he will also face at some point.
Image sources:
mazzzur / Bigstock.com
Ringo Starr with wife: Starfrenzy / Bigstock.com

Visit site for more useful and informative articles!