Steven Seagal: The Actor's Net worth
How rich is steven seagal?
A vegetarian martial artist who received Russian citizenship in 2016 from none other than President Vladimir Putin himself. This somewhat strange-sounding description does indeed apply to the film actor from the USA. Steven Seagal experienced his finest hour especially in the 1980s and 90s, when he was able to incorporate his martial arts into his work in front of the film camera. The native American also has Serbian citizenship, which he also received in 2016. The cherished Steven Seagal's net worth is 14 million euros.
The eventful life of Steven Seagal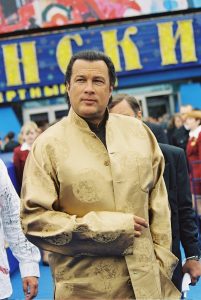 Overall, Steven Frederic Seagal has seven children from four different women. In 2009 he married the Mongolian Erdenetuya Batsukh, called Elle. They have a son together. The fact that the mafiosi in New York became aware of the star's fortune even led him to court. Because after Steven had shot "Exit Wounds", he was blackmailed in 2002. The Italian-American mafia wanted to get rich from the film actor. Mafiosi claims were $ 150,000 per film Steven Seagal would make from then on. Of course, the New York-based Mafia couldn't get away with this. Rather, it was convicted in court, which went hand in hand with long prison terms for the villains.
The fact that the actor also has a gun collection in his private life certainly benefited him in many of his action-packed films. Most of the time the star used one Colt M1911 on the big screen. This special weapon can also be found several times in his private weapon collection. Steven Seagal has also worked with Ken Onion, a Hawaiian knife maker. They developed a knife together. The model Kershaw 1680 Steven Seagal has been seen in numerous films by the action and martial arts star.
Steven and Buddhism
It is not difficult to see that Steven Seagal's life has already been very exciting and action-packed. The US star even lived in Japan for 15 years. Seagal is not only known as a follower of Tibetan Buddhism. He is also a practicing Buddhistwho is also fluent in the Japanese language. He also holds the role of the consecrated Omoto priest.
As early as 1997 the Tibetans declared him to be the rebirth of Tertön Chungdrag Dorje. Therefore Seagal is allowed to adorn itself with the title "Tulku". This is one Buddhist masterwho is considered to be the rebirth of a previous master. This master chose his own rebirth. That this title is definitely something special – and especially for a Hollywood star – should also be clear to the American cinema audience. Therefore, there was already a TV documentary in the USA with the title "The Buddha from another planet: action star Steven Seagal has now been officially anointed an action lama." The TV broadcaster CBS broadcast this format.
As an actor, Steven Seagal was seen in "China Salesman" in 2017 and in the TV series General Commander since 2017. Even if his greatest hits were a while ago, the star earns with his skills Good money in front of and behind the camera. So he does not live the life of a secluded monk. And who knows, maybe we'll even see Steven Seagal on the big screen again soon?
Image sources:
Cover picture: Kremlin.ru [CC BY 4.0], via Wikimedia Commons
Denis Makarenko / Bigstock.com

Visit site for more useful and informative articles!