Sundar Pichai: Google CEO Net Worth
How rich is Sundar Pichai?
Sundar Pichai was born on June 10, 1972 in Madurai in the Indian state of Tamil Nadu. He grew up in simple circumstances as one of two sons of a stenographer and an electrical engineer. The family lived in a two-room apartment with no refrigerator or television. Back then, Sundar and his brother slept in the living room, the apartment was very small. Sundar Pichai has worked his way up to the top. Today, as CEO, he has overall responsibility for both the technology group Google and its parent company Alphabet Inc. The esteemed Sundar Pichai's net worth is € 1.05 billion.
Bachelor & Master studies
After graduating from school, the future manager did his bachelor's degree in metallurgy at the Indian Institute of Technology in Kharagpur. This is one of the most important technical colleges in India. His studies were followed by a master's degree in materials science at the renowned American Stanford University and an MBA from Wharton School at the University of Pennsylvania.
The Indian actually wanted to pursue an academic career afterwards, but decided differently: So he initially worked in Product management at the famous corporate and strategy consultancy McKinsey & Company.
Sundar Pichai on Google
Pichai came to Google in 2004. The company was still relatively small compared to today and did not yet have many other software products besides its search engine. That is where Pichais began meteoric rise: He initially worked on products that are now indispensable, such as Google Drive and the Google Chrome browser, which eventually became the market leader under his leadership. Later on, Sundar Pichai even took over the management of Gmail and Google Docs development. From 2013 he was also responsible for the mobile operating system Android. A year later he was named Google's chief product officer.
In 2015, Google founders Larry Page and Sergey Brin finally asked him if he would like to become the head of the Google group. Sundar Pichai didn't have to think twice about it and accepted this incredible job offer. Since then he has been wearing them Position of CEO at Google. But that's not all: At the end of 2019, the two Google founders withdrew from operational business. From now on, Pichai is not only responsible for the technology group Google, but also for the entire parent company Alphabet Inc.
How much does Sundar Pichai earn?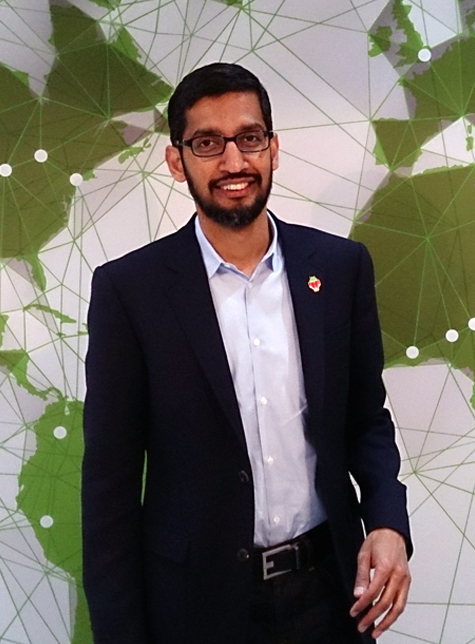 Such a high, responsible position also brings with it record income: As CEO of Alphabet Inc. & Google LLC, he is currently earning a profit annual salary of $ 2 million. In addition, Sundar Pichai will receive a share package from Alphabet Inc. worth 240 million US dollars, which will be paid out over a period of 3 years based on success.
The billionaire's personal life
Although Sundar Pichai has provided for financially, he has never forgotten his humble roots in India: For example, he is said to always have a bottle of water next to his bed. To this day, clean drinking water is still something special for him, as this cannot be taken for granted in India. Sundar Pichai appears polite and humble despite his wealth, is thoughtful and reserved. In his spare time he is interested in soccer and cricket. The CEO of Google is married to Anjali Pichai, whom he met while studying at the Indian Institute of Technology as a fellow student. The two have a son and a daughter.
Image sources:
Maurizio Pesce from Milan, Italy [CC BY 2.0], via Wikimedia Commons
bennymarty / Bigstock.com

Visit site for more useful and informative articles!