The meager fortune of former professional boxer Mike Tyson
How Rich is Mike Tyson Really?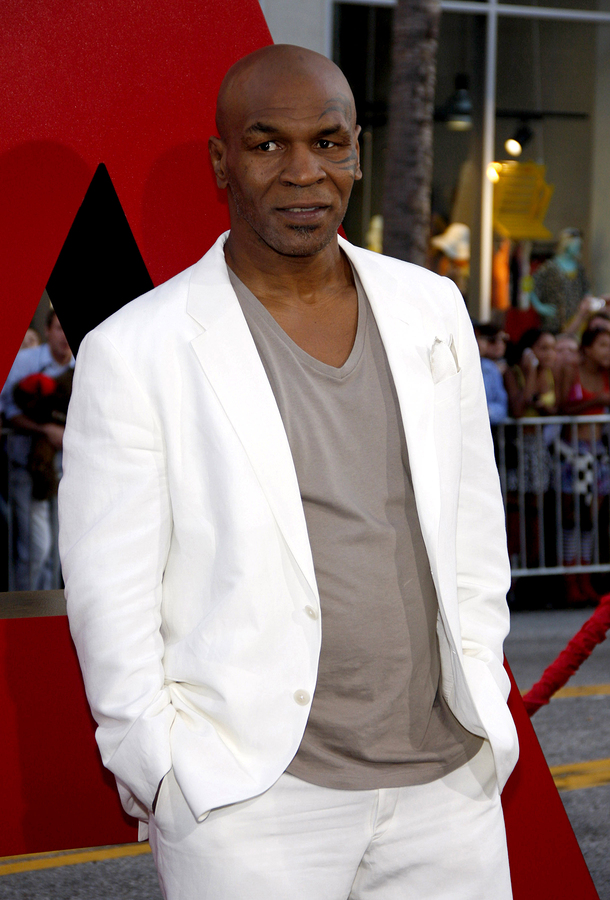 When dealing with the Mike Tyson's fortune once taken closer, it takes on almost tragic features. Because meanwhile are from once 300 million US dollars, only 2.5 million euros left. So it should be clear that Mike Tyson just can't handle money. Because at least financially, one of the best-known and most successful, but at the same time most controversial boxers of all time has relegated to a common man again. However, if you look at his life story, this is not particularly surprising.
Comeback against Roy Jones Jr.
On November 28, 2020 a boxing spectacle of the "oldies" rose: the two boxing legends Roy Jones Jr. (51) and Iron Mike (54) himself got into the ring and wanted to know again. In an 8-round show fight, which was scored as a tie, real money should be earned again via pay-per-view payments. Iron Mike is said to have received $ 10 million and a further $ 50 million pay-per-view income is expected. Apparently the boxer wants to donate the money. There will even be a 10-part documentary series about the two former boxing world champions. We are excited and look forward to reporting on the income.
Numbers don't lie. haters are mad they can't get numbers like this. Saturday is reckoning. @RealRoyJonesJr you better be ready pic.twitter.com/NwwoAty3YY

– Mike Tyson (@MikeTyson) November 25, 2020
Career
At the age of 13, Iron Mike had already been arrested 38 times. The boxer not only got off to a difficult start in life, he also suffered numerous strokes of fate, with the tragic death of his only four-year-old daughter in 2009 being arguably one of the worst. In addition, the retired boxer was diagnosed with bipolar disorder, which must have contributed to his difficult living conditions. The six-year prison sentence for rape, of which Tyson only served three years from 1992 to 1995, also makes him one highly controversial figure in public life.
Investment in cannabis – The California marijuana farm
At the beginning of 2018 Iron Mike founded his own cannabis ranch in California with three business partners, where cannabis has been legalized since the beginning of 2018. The "Tyson Ranch" is said to be about 16 hectares. About half of this is said to be used for growing cannabis. There will also be a school for breeders and a facility for extracting the active ingredient THC. In addition, other products related to the marijuana plant are to be created. When the farm will officially open is still pending. The project will definitely put a lot of money in the wallet of the former boxing champion again.
The financial downfall of Mike Tyson
If you take a closer look at Mike Tyson's life story, then his financial downfall is closely linked to his tragic life story. By 1988, Iron Mike had worked his way to the top as a boxer. But the high point of his career did not last long. The divorce from Robin Givens bothered him and Mike Tyson was also financially troubled as a result. At the same time, the boxer took a few unwise steps that would change his boxing career forever. For example, many former Mike Tyson fans wonder if the sacking of his coach Kevin Rooney in late 1988 wasn't the wrong move. From then on, Mike Tyson just wasn't the same boxer anymore.
As early as 1990, it was very clear that Tyson was in big trouble. The boxer lost his fight against Buster Douglas on February 11, 1990 in Tokyo and was no longer the undisputed champion. Although Tyson had been considered the all-time favorite in the battle for victory around the world, Kid Dynamite suffered the first knockout of his career instead. This defeat was simply unbearable for Tyson and things slowly went downhill. Tyson never regained his previous status as "the ultimate heavyweight boxer". But he wouldn't be Iron Mike if he didn't fight doggedly on. In 1996 he got the WBC and WBA world championship belt back, but had to give it back to his opponent Evander Holyfield in November of the same year.
The story of the bitten off ear
In 1997 he wanted to try again with the rematch against Holyfield. After all, Mike Tyson cashed in $ 30 million for this fightbut it turned out to be a black day in the boxer's career as well. That Tyson got a piece of Holyfield's ear bitten off had is probably one of the moments in boxing history that will not be forgotten anytime soon. The fight was then interrupted and Iron Mike even disqualified. There was also one Fine of $ 3 millionthat the biting boxer also had to deal with.
Buy Mike Tyson Biography and Film on Amazon
Even after the renewed defeat and the difficult ones Reviews because of the bitten off ear Irone didn't give in to Mike. After six more boxing matches (4 wins, 2 draws) he was again in 2002 1st challenger to the world champion title and was allowed to compete against Lennox Lewis. This demonstrated his incredible strength and sent Mike Tyson on the boards in the 8th round. So the initially steep boxing career slowly came to an end.
Mike Tyson broke?
In the years that followed, Tyson spent the money he didn't actually have with full hands. Many luxury stores just gave Mike Tyson their goods, assuming the boxer would pay for them later. After all, it was boxing legend Mike Tyson. In many cases, however, the payments never came. By 2003, the ex-boxer had squandered his entire fortune of 300 million US dollars on completely useless things. When the IRS, that is, the US tax office, demanded 13.4 million US dollars from Tyson in 2003, the boxer was finally broke. Iron Mike's $ 4 million tax debt in Great Britain also drove it into bankruptcy that same year.
Image sources:
Denis Makarenko / Bigstock.com
Starfrenzy / Bigstock.com

Visit site for more useful and informative articles!