The TV candidates receive these fees
The television program overflows with soaps, series, reality TV shows, casting shows, documentary soaps and films. You are spoiled for choice. The various transmitters are also available in large numbers. This ensures that there is the right program for everyone. Again and again the question arises how much do the TV candidates and actors earn? The fees of some formats have been known for a long time, for example at Big Bang Theory the salaries of Sheldon, Penny & Co. are no longer a secret. We have also known for a long time what fees the actors in Berlin receive day and night. But there are still many more formats on television. I agree! We did research for you and were able to determine many fees from TV candidates for their participation.
How much fee do you get for "The Bachelor" on RTL?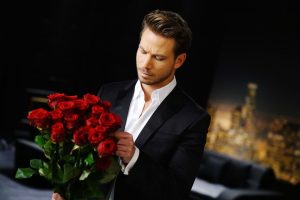 The TV show is supposed to be a attractive bachelor find the woman for life. The first season was broadcast in 2003, after a long break it only continued on RTL in 2012. The eighth season was broadcast in 2018. Daniel Völz was allowed to choose from 22 beautiful women. Whoever gets a rose from him is one round further. The Bachelor himself receives a fee between 30,000 and 70,000 euros.
The ladies get for their participation "The Bachelor" a fee of 700 and 4,000 euros. A small reward for a few weeks of filming, during which the women are watched by the camera 24 hours a day and have to wear their microphones on their bodies all the time. The microphone can only be removed when showering. Converted, the women get a very small hourly wage. In addition, they receive 100 euros in beauty pocket money every day. But one of them gets a bachelor's degree, and one of them is definitely worth it. The participants in "The Bacholerette" receive a fee of 3,800 euros.
What do you earn with "Daughter-in-Law Wanted" on RTL?
Beate and her mom Irene are well known from the TV format. Beates mother died on January 11th, 2017. Basically, men are paired up, Beate is the female exception as a mediation case, daughter-in-law wanted has been on TV since 2007. The show will be moderated by Vera Int-Veen. At the docu-soap they get Mediation cases 1,200 euros per week of shooting. The women who apply for the single men get 500 euros for a week of shooting.
The fees at Germany's Next Top Model on Pro7
The show is best known for the presenter and jury member Heidi Klum. The supermodel moderates the numerous seasons of GNTM, the program has been on Pro7 since 2006. The girls at Germany's Next Top Model get no fee, but there is hope there as a model and to become famous. So it can be seen as a career springboard. The winner, however, gets one high fee, namely 100,000 euros. In addition, the victory also goes hand in hand with advertising contracts.
How much money do you get with "Deutschland sucht den Superstar" on RTL?
DSDS was first broadcast on RTL in 2002. The casting show has now been produced in countless seasons and it is hard to imagine television without it. A constant member of the jury is Dieter Bohlen, he was there from the start and never missed a single season. But what would DSDS be without Dieter? In the 13th and 14th season, HP Baxxter was another jury member alongside Dieter Bohlen. But numerous other stars were also on the DSDS jury: Shirin David, Xavier Naidoo, Carolin Niemczyk, Heino, Bill Kaulitz, Tom Kaulitz, Vanessa Mai, DJ Antoine, Florian Silbereisen, Oana Nechiti, Kay One, Marianne Rosenberg, Ella Endlich , Pietro Lombardi, Mousse T. and many more.
Participants get nothing for participating in the casting of Deutschland sucht den Superstar. Whoever manages it and progresses can then hold up their hand and cash in. But the top 15 show is paid. The last 15 remaining participants get 1,400 euro fee per week. One of the most famous DSDS participants is probably Menderes Bağcı. He really never gave up and has appeared in many seasons. He also performed later in the jungle camp in 2016 and was even crowned the jungle king there.
The fees for "Frauentausch" on RTL 2
The German documentary soap is based on the temporary exchange of women between two families. The show has been running since 2003 and is very popular. An exciting experiment for all men who want to take their wife on vacation. Or for those who want to swap their wife for another, even if only temporarily. The wife swap runs for a week There is a fee of 1,500 euros per family to be swapped.
Payment for "Das Supertalent" on RTL
"Das Supertalent" has been looking for a special talent per season on RTL since 2007. There is a new season of this format every year. Here, too, a parallel to DSDS: Dieter Bohlen is a constant member of the jury. You don't get anything for the casting at Supertalent, just like at DSDS. However, if you make it onto the stage, you will receive 350 euros per performance. The winner, on the other hand, receives a large fee. The super talent may have a Prize money of 100,000 euros be happy.
How much do you get with "The Perfect Dinner" on VOX?
The perfect dinner has been broadcast since 2006. The aim is to host the perfect dinner as the host. The guests rate the host. Each of the participants invites them to their home once and the others then evaluate. There is no fee for participation, but the groceries are paid for. This explains why many candidates then often buy expensive products. The winner gets at perfect dinner at least 1,500 euros in prize money.
How much do you get for "Bauer sucht Frau" on RTL?
Bauer sucht Frau is a documentary soap that was launched in 2005 on RTL and also on the Austrian television channel ATV. Look for it Farmers partnersSince 2009, women farmers who are looking for partners have also participated. The German version is moderated by Inka Bause, the Austrian version by Arabella Kiesbauer.
The production company spends a week with the farmers. That's what they get Farmers 3,000 euro fee for the week at Bauer sucht Frau. The potential girlfriends receive from RTL 250 euros for the barn festival and 150 euros fee for each additional day of shooting.
Remuneration for "Goodbye Germany! The emigrants "on VOX
The documentary soap shows Germans who emigrate or who have already emigrated. The format has been broadcast since 2006. A well-known participant is Malle Jens, also known as Jens Büchner. Michael Wendler, who emigrates to the USA with his family, has also been participating since 2017. The fees at Goodbye Germany! The emigrants are kept very small. The participants receive remuneration of 500 euros for up to 12 days of shooting. Jens Büchner received that much at the time. Assuming that he worked eight hours per day of shooting, he would get remuneration of 5.21 euros per hour. You certainly won't get rich from that. Many other celebrities have also been part of the successful format. For example Konny Reimann with his family, or Daniela Katzenberger. One can assume that they were paid better than Malle Jens.
Eve is looking for a fee for Adam on RTL
If you want to look for your dream partner completely naked on an island, receives a fee of 1,100 euros from RTL. However, the "dream vacation" on the dream island "Tikehau" in the Pacific Ocean is included. Anyone who takes part here has really earned the fee. Bastian Yotta was also there. If you also like it naked, you can also try the RTL2 "Undressed" format. Here is 150 euros for a bed date.
The fees in the jungle camp on RTL
The jungle camp on RTL has been around since 2004. You can look forward to the 14th season, which will be shown in 2020. The show will be moderated by Sonja Zietlow and Daniel Hartwich. Seasons 1 to 6 moderated the now deceased Dirk Bach together with Sonja. The stars cash in heavily for eating insects and other jungle exams.
Are there Fees of up to 300,000 euros possible. The more famous the celebrity, the higher the fees. The jungle king 2017, Marc Terenzi, earned only 55,000 euros. However, if you give up and drop out in the camp, you have to give back half of your fee. For spicy, intimate details that the celebrities gossip in the jungle camp, they receive an extra bonus of up to 10,000 euros from RTL. The fees in the jungle camp 2020 were great again and also turned out very differently.
Actors' salaries at "Unter Uns" on RTL
The German soap opera Unter Uns has been broadcast on RTL from Monday to Friday since 1994. After Good Times, Bad Times and Marienhof, Unter uns is the third German daily soap. For more than 20 years, the series has enjoyed a large audience. The actors from Unter Uns can also be found at the employment office, namely during the break in filming. Often the shooting break takes place in winter, the actors are logged off during this time and have to go to the employment office. This saves the production company social security contributions and salaries. During the shooting, they get Actors up to 10,000 euros gross monthly fee. During the breaks they only earn between 1,300 and 2,300 euros net at the employment office.
Fees and gag contracts on Love Island (RTL 2)
The RTL 2 show "Love Island" has been around since 2017. The fee for participation is only € 1,000 to the candidates. In addition, there is a bonus of 250 euros for each week until you are eliminated. So a maximum of 1,750 euros for three weeks of participation. The exciting thing is that all candidates must be in the first 12 months after the first broadcast of Love Island Give 30 percent of their social media and other TV earnings to RTL2.
Image sources:
Bachelor: © RTL / Stefan Gregorowius
DSDS: © RTL / Stefan Gregorowius
The super talent: © RTL / Stefan Gregorowius
Farmer is looking for a wife: © RTL / Stefan Gregorowius
Jungle camp: © MG RTL D / Stefan Menne

Visit site for more useful and informative articles!