Tim Bendzko: The German singer's fortune
How rich is Tim Bendzko?
Tim Bendzko could just as easily have become a footballer. After all, the native of East Berlin even went to a sports high school and made it to the B youth level at 1. FC Union Berlin. However, after the fun of the sport faded into the background and the idea of ​​performance gained more and more importance, the musician of today gave up his football career very early on. When he was 11 or 12, he decided to learn to play the guitar. At 16, Tim Bendzko started writing his own pieces. And so began the singer's steep and extremely successful career. The cherished Tim Bendzko's net worth is € 3 million.
The singer's beginnings
The artist never finished his religious studies at the Free University of Berlin. After all, he lasted there for five semesters. It is all the more curious that today's millionaire worked as an auctioneer in the auto trade. In 2009 he was able to celebrate his first musical breakthrough. He took part in a talent competition organized by the Sons of Mannheim and promptly won. It was probably also his appearance with the sons on the Berlin Waldbühne that soon won him over Record deal with Sony Music Entertainment should provide. That his first big appearance took place in front of a good 20,000 people is all the more impressive.
In June 2011, Tim Bendzko made it to number four in the charts with his first album "If Words Would Be My Language". Especially the single "Just save the world for a moment"Has proven to be a real catchy tune. This song stayed in the charts for 47 weeks and was even honored with the platinum award that Tim received for his debut album. From the Bambi to the 1 Live Krone, the newcomer was able to quickly gain a foothold in the music world and win various prestigious prizes.
Tim Bendzko and his way up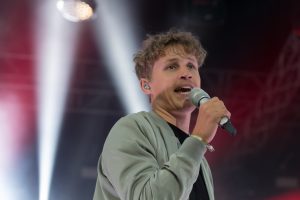 At a later point in time, it was another competition that would give Tim Bendzko's career a major boost. For the state of Berlin he took part in the Bundesvision Song Contest and was able to compete against Bosse feat. Anna Loos prevail. Already in January In 2012 Tim Bendzko was able to embark on his first major tour. The German artist was also featured in the opening act for music legend Elton John. He has even accompanied Joe Cocker on his tour.
With his second album, Tim Bendzko was able to celebrate an even greater success. He made it to number 1 in the German charts. In the spring of 2014, a second tour followed, which not only extended to Germany, but also to Austria, Luxembourg and Switzerland. Even with artists like Cassandra Steen and Xavas (XAVAS – musical project by Xavier Naidoo and Kool Savas) Tim already worked together in the course of his relatively young career.
In addition to Lena Meyer-Landrut and Henning Wehland, the Berlin singer was also able to appear as a juror at "The Voice Kids". He was able to live out his love for football again in 2013. At that time he was able to help design a new club anthem for FC Bayern Munich. Whether for "Schlag den Star" or as a juror for "Our Song 2017," TV audiences seem to love the singer as much, which is why he has already been given the opportunity to work on well-known German TV formats several times. So we can be curious to see how the Berliner will appear musically and on TV in the future.
Image sources:
Cover picture: R.Bajela [CC BY-SA 4.0], via Wikimedia Commons
Raimond Spekking [CC BY-SA 4.0], via Wikimedia Commons

Visit site for more useful and informative articles!