Toto Wolff: The fortune of the Mercedes motorsport boss
How rich is Toto Wolff?
Toto Wolff has achieved what many racing drivers and mere mortals do not even dare to dream of. Not only his racing career, which he has since given up, has fulfilled him. Even as a clever businessman, he has emerged as one of the richest Austrians. While he won the Dubai 24-hour race in 2006, the multi-millionaire founded his venture capital company Marchfifteen back in 1998. So he doesn't just get his money from motorsport, but also from clever investments in various technologies – as well as internet companies. The cherished Toto Wolff's net worth amounts to 345 million euros.
Participation in the Mercedes AMG Petronas F1 Team
When long-time motorsport director Norbert Haug (22 years old) left the Mercedes Formula 1 team, Toto Wolff took over the helm. In the same year Wolff and his business partner (Rene Berger) even got one 30 percent stake in the Mercedes racing team secured so that the success or failure of the team also has financial consequences for them. Both Wolff and Berger are therefore an integral part of the Mercedes GP management board.
However, Toto Wolff, whose real name is Torger Christian Wolff, is not only campaigning for racing. Together with his wife Susie, whom he married in autumn 2011, Toto Wolff cares about the well-being of the children. Finally, the financially strong investor also appears as chairman of the Mary Bendet Foundation. Disadvantaged children should benefit from the efforts of this foundation, which also stands up for disabled and blind children so that they can find an easier entry into their later adult life. Toto and Susie Wolff have one together Son named Jackwho was born in April 2017. Toto also has two children from his previous marriage to Stephanie.
Shares in Aston Martin
In April 2020 it was announced that Wolff was working for the British sports car manufacturer Aston Martin got on. For 40 million euros, he secured around 0.95% in the traditional company, which is also planning a return to Formula 1. According to Mercedes, the participation should in no way contradict its involvement in the Mercedes Formula 1 Team, as Daimler has held shares in the British since 2013. A few months before the Austrian's investment, his friend Lawrence Stroll (assets of 2.63 billion euros) invested 600 million euros at Aston Martin, who will also become CEO.
From racing driver to Formula 1 boss at Mercedes
Toto Wolff has had a steep career. For the Austrian, it all started with Formula Ford. At the age of 20, Toto made his debut as a racing driver. Even if he achieved various victories, his racing career could certainly not be compared with that of Michael Schumacher. At least he was able to secure the title of Vice State Champion at the Austrian State Rally Championship in 2006. In 2009, the racing driver also managed one Lap record on the Nordschleife of the Nürburgring. In just 7:03 minutes, he raced across the asphalt in a Porsche 997 GT3 RSR – a new record for vehicles without a turbo unit.
Toto Wolff and his million dollar fortune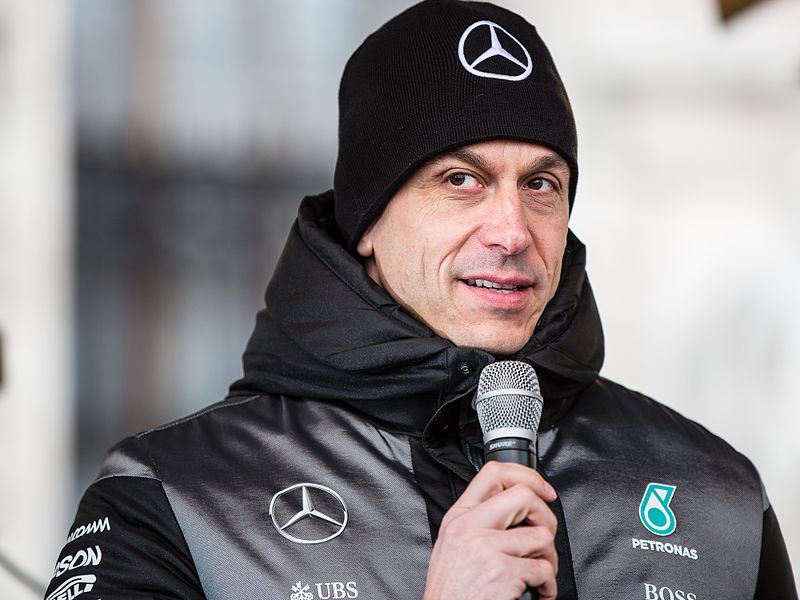 That Toto Wolff only starts from one Enthusiastic about motorsport from the age of 17 could is all the more astonishing. Because many successful personalities from racing had already dedicated themselves to this sport in their childhood days. However, Niki Lauda, ​​for example, did not drive his first race until he was 19 years old. Toto Wolff was very fortunate to have a friend who made his great love for motorsport blossom in him. The Austrian now lives in his adopted home, Switzerland, on the picturesque Lake Constance.
The fact that Toto Wolff never graduated from university obviously didn't stop him from amassing a fortune in the millions. Toto Wolff himself speaks of the fact that a Much of his success is based on his interpersonal skills. They help him, for example, to select the right people for a wide variety of positions within a company and thus to drive the company's success forward. In addition, the investor thinks very carefully about what the "worst case" scenario could look like. If he can take this risk well with an investment, then he invests. The fact that he was often in the right place at the right time is not only due to his ability, but also to a lucky coincidence. Let it be granted to him!
Image sources:
Cover picture: MacKrys [CC BY-SA 4.0], via Wikimedia Commons
Toto and Susie Wolff with Niki Lauda: Mandoga Media / PRPhotos.com

Visit site for more useful and informative articles!