Marc Gebauer: The watch dealer's fortune
How rich is Marc Gebauer?
Marc Gebauer is a German social media star. The young entrepreneur used his reach on YouTube and Twitch to create his own brand for trading in luxury items. In the Marc Gebauer online shop there are, for example, luxury watches, perfume, accessories, luxury bags and coffee. In Germany he has been the most popular and well-known watch dealer for several years. Cooperations with rappers, influencers and co. Helped him to gain popularity, reach and wealth. The cherished Marc Gebauer's assets amount to 1.5 million euros.
Training from Marc Gebauer
Marc Gebauer was born in 1988. After graduating from high school, he decided to train as an IT assistant. In connection he also completed a degree in journalism and media communication. There he laid the foundation for his social media skills and the perfect appearance in public. Instead of traditional student jobs, he decided to work as a co-moderator in online gaming. He also earned a nice side income as a Counter Strike Gamer. After successfully completing his studies, he started working for an upscale men's outfitter.
Career at Cologne Watch Center
At that time Marc Gebauer was already privately interested in watches and was a frequent guest at the Cologne Watch Center. In 2016 he switched from a men's outfitter to a watch dealer. The Cologne Watch Center is a gray market dealer that does not officially work with the manufacturers. The watches are bought and sold through different sources. Gebauer was busy setting up a branch in Düsseldorf. Together with his team, he attaches great importance to high-quality advice and first-class customer service. I was employed at Cologne Watch until the beginning of 2020, after which the step into self-employment followed.
The luxury influencer and its wide reach
As gray market traders, Gebauer and the Cologne Watch Center have more Scope for social media marketing. At the beginning of 2021, Marc Gebauer had more than 171,000 subscribers on YouTube and 85,000 followers on Twitch. However, the greatest is its reach on Instagram. There he has 231,000 subscribers and has already published over 720 articles.
Cooperations with various stars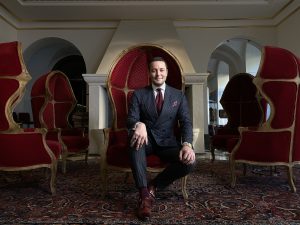 The first-class service in the Cologne Watch Center is one thing the cooperation with various stars from music and social media is the other. Together, these qualities ensured an enormous range. For example, he worked with Nico aka Inscope 21, Tim Gabel or Sascha Hellinger von unsympathetic TV together who appear regularly on his channel. He also made YouTube videos with MontanaBlack. But Sido, Farid Bang or Pietro Lombardi also wear a watch from Germany's most famous watch dealer: Marc Gebauer. March 2020 Gebauer said goodbye to his employer Cologne Watch to build his own business. An online shop for luxury watches as well as perfumes, accessories, bags and coffee.
Marc Gebauer private
Privately, the watch dealer Gebauer is a devout Muslim. He himself pointed out in videos that his first contact with Islam helped him to find meaning in life. Today the Koran plays an important role in his life. He Without exception, he does without alcohol and does not wear any gold jewelry in her private life. Marc Gebauer is also happily married to his wife Victoria.
His own watch collection
Marc Gebauer's passion for watches made him a success. Yet he does not display his wealth in private life. His watch collection is said to be around 10 different luxury items include. His first valuable watch was a present from his father: a Rolex Submariner. In addition, Marc Gebauer focuses on his channels on business – his private watch collection remains a mystery despite frequent inquiries.
Image sources:
Cover picture: Nico Glatz [CC BY-SA 4.0], via Wikimedia Commons
@ marc.gebauer / Instagram

Visit site for more useful and informative articles!