Nasser Al-Khelaifi: The PSG President's fortune
How rich is Nasser Al-Khelaifi?
Nasser Al-Khelaifi is one of the richest people in the sports business. The entrepreneur from Qatar used to be a tennis player himself. However, his active years are long behind him and the multimillionaire is now making good money playing football. After all, he appears as the president of the world-famous French football club Paris Saint-Germain. He owes this to Sheikh Tamim bin Hamad Al Thani. The emir of Qatar has appointed Nasser Al-Khelaifi as president of PSG. At the same time, the sheikh has appointed him chairman of the investment fund Qatar Sports Investments (QSi) and general director of BeIN Sports. In addition, Al-Khelaifi is President of the Qatari Tennis Association, a leading member of the Organizing Committee of the 2022 World Cup and Minister in Qatar. The cherished Nasser Al-Khelaifi net worth € 250 million.
Friendship with the wealthy Tamim bin Hamad Al Thani
Sheikh Tamim bin Hamad Al Thani (born June 3, 1980 in Doha, Qatar) has been head of state of the Emirate of Qatar since 2013, after the death of his father Hamad bin Khalifa Al Thani. A long time ago, Nasser Al-Khelaifi met Tamim bin Hamad Al Thani on the tennis court in Qatar. The two became not only training partners, but also best friends. This friendship laid the foundation for the fortune of Nasser Al-Khelaifi. the Sheikh Tamim bin Hamad Al Thani has an estimated net worth of 2 billion euros. The head of state of Qatar gave Al-Khelaifi many important positions and even made him a minister. Nasser Al-Khelaifi owes him the following functions:
President at Paris Sain-Germain Football Club
Chairman of the beIN Media Group
Chairman of Qatar Sports Investments
President of the Qatar Tennis Federation
Vice President of the Asian Tennis Federation for West Asia
In addition, Al-Khelaifi is part of the organizing committee responsible for the FIFA Club World Cup 2022. In 2016, L'Equipe even named him the "most influential man in French football" designated. Given that Nasser Al-Khelaifi is not a French himself, this is all the more astonishing. The tasks of the PSG President naturally also entail corresponding salaries. Nasser Al-Khelaifi's fortune continues to grow and connected with it also his influence and power. Nasser Al-Khelaifi is no longer an unknown face. His friendship with the most powerful person in Qatar has taken him very far.
Nasser Al-Khelaifi as President of Paris Saint-Germain
Qatar Sports Investment (QSi) has been investing in the Paris Saint-Germain football club since 2011. QSi holds 100% of PSG. The previous owner of the club, Colony Capital, sold 70% of its shares in PSG to the buyer Qatar Sports Investment for around 30 million euros in May 2011, and a further 20 million euros were used to repay debt. In 2012, QSi took over the remaining 30% of the shares in the club and invested a further 108 million euros in PSG. Nasser Al-Khelaifi was installed as president of Paris Saint-Germain.
Since the takeover, QSi has invested huge millions in PSG, the annual sales of the club nowhere near the investments. For example, superstars such as David Beckham, Zlatan Ibrahimovic and Ronaldinho have already been signed up in the past.
With the current superstars around Lionel Messi, Neymar, Kylian Mbappe, Gianluigi Donnarumma, Marquinhos, Verratti and Co., you probably have the best team of all time and the goal of finally winning the Champions League is getting closer and closer.
Most expensive player transfer Neymar Jr.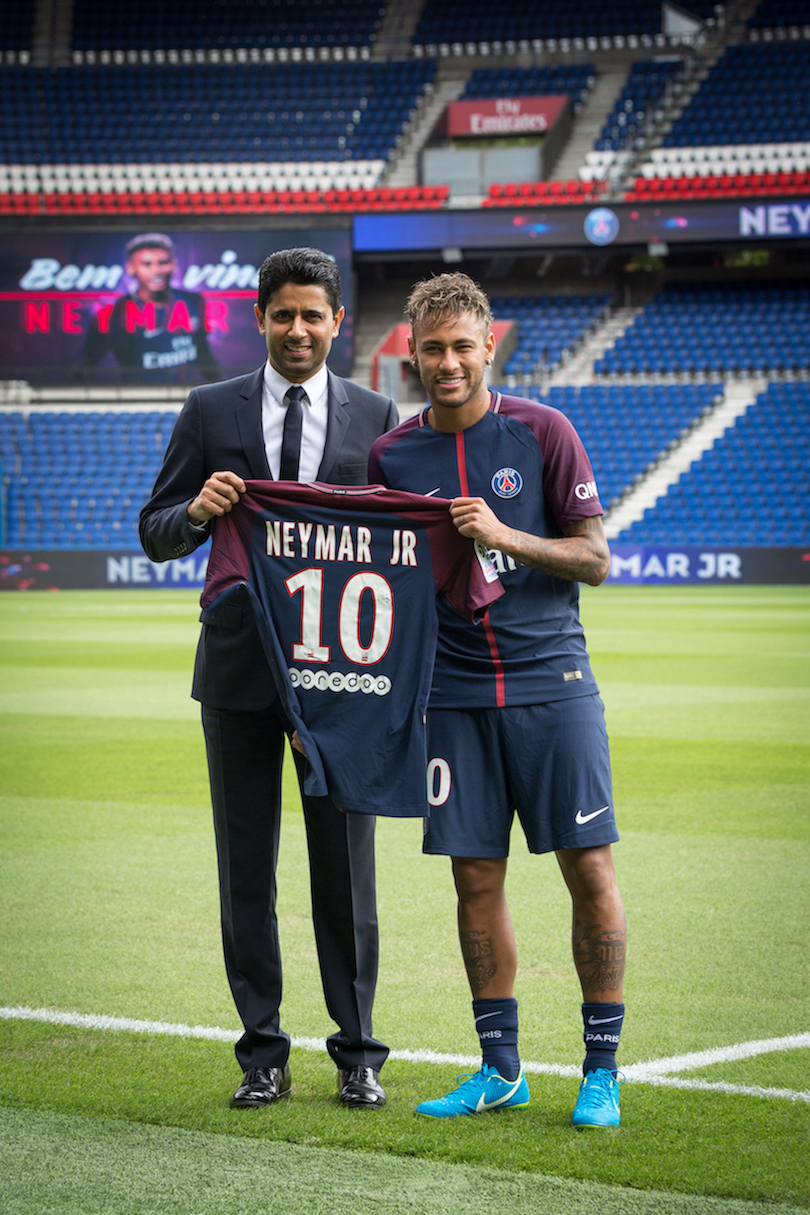 On August 4th, 2017, football investing history was made. The Brazilian Neymar was brought on as a new signing to PSG. A transfer fee of 222 million euros was paid to his old club, FC Barcelona. This makes the Transfer from Neymar to the most expensive player transfer in football history. In 2012, a sponsorship agreement was signed with the QTA (Qatar's Tourism Authority) for Paris Saint-Germain, which should bring in around 600 million euros by 2016. Critics alleged that with this sponsorship deal, QSi was circumventing UEFA's financial fair play guidelines. PSG President Nasser Al-Khelaifi commented only briefly on financial fair play criticism – they are entitled to invest their money wherever they want and that investors are not angry.
Nasser Al-Khelaifi appears in a perfectly fitting tailor-made suit, the hairstyle holds and the smile is also right. A model man who gives only a few interviews. If he does say something, then it should be considered carefully and the answers will be right. For example was Nasser Al-Khelaifi criticized for the working conditions on the World Cup construction sites for the 2022 World Cup in Qatar. He then assured that there were no human rights violations and that Qatar was a very warm people that would never allow such human rights violations. The man in the suit always knows a correct answer and does not allow criticism to exist. Al-Khelaifi was also accused of being involved in the corruption scandal involving the former FIFA Spitzer – as was Sepp Blatter. It was about the allocation of media rights for upcoming world championships – but the scandal was never really discussed and cleared up.
What is known about the multimillionaire from Qatar?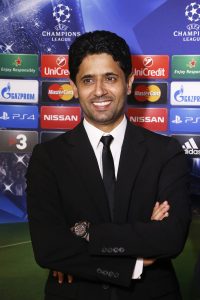 The western world knows relatively little about the wealthy Nasser Al-Khelaifi. To his Tennis career however, some details are known. For ten years, from 1992 to 2002, the current businessman was active in the Qatar Davis Cup team. He took part in a total of 45 matches. Of his 43 individual games, the talented tennis player was able to decide twelve in his favor. He also won the same number of matches in the doubles games, although he was only involved in 28 of these games.
Together with Sultan Khalfan Al Alawi, Nasser bin Ghanim Al-Khelaifi was able to write tennis history in his home country. The two were the most successful duo that had competed for Qatar at the Davis Cup to date. In his two games on the ATP World Tour, however, the Qatari player was only allowed to participate on the basis of a wildcard. At that time he played against Thomas Muster, but lost to him in the tennis game. Unfortunately, his talent wasn't enough to stay in the race any longer. He never made it further than the first round of the tournament. With his right playing hand, Al-Khelaifi has none the less A total of 16,201 US dollars in tennis prize money collected. These are of course only peanuts for the extremely wealthy ex-tennis player.
Nasser Al-Khelaifi fortune
The Qatari minister also studied at the University of Qatar. Al-Khelaifi received this ministerial title in November 2013 from the Emir of Qatar, Sheikh Tamim, himself. Thus, the wealthy entrepreneur became part of the government of Qatar. However, he does not hold any office as minister. How influential the former tennis pro is also shows his role in the beIN Media Group. This is a company that has 22 sports TV channels, 17 of which are also available in HD. These stations can be received not only in Asia, Australia and North America, but also in Europe, North Africa and the Middle East. In this respect, too, Nasser Al-Khelaifi can be described as a real power man in the field of sports entertainment.
There are many entanglements and entanglements in Qatar. The financial circumstances of the Qatari aristocratic families are simply too confusing. It is therefore not clear to outsiders which assets belong to whom. There are many connections and the sheikhs do not like to be looked at in their cards or at their bank accounts. That yourself Nasser Al-Khelaifi doesn't have to worry about his financial livelihood, should however be clear.
Image sources:
Cover picture: Keitma-st / Bigstock.com
Tamim bin Hamad Al Thani: Presidencia de la República Mexicana [CC BY 2.0], via Wikimedia Commons
Nasser Al-Khelaifi and Neymar: Antoine Dellenbach [CC BY-SA 2.0], via Wikimedia Commons
Nasser Al-Khelaifi: Aisha sahukar [CC BY-SA 4.0], via Wikimedia Commons

Visit site for more useful and informative articles!