Nils Glagau: The wealth of the entrepreneur & TV lion
How rich is Nils Glagau?
Little is known about the Lions Den judge. As the owner and managing director of the family company Orthomol, Nils Glagau has hardly made any headlines so far. In any case, Nils did not initially aim to join his father's company. Rather, he had dreamed of a future as an archaeologist that would be more suited to a true globetrotter. Fate meant it differently with today's Orthomol CEO. The cherished Nils Glagau's assets are 30 million euros.
The beginning of Orthomol
Father Kristian teamed up with a friend who was a chemist in 1991 to create Orthomol. Initially, the products were sold out of the garage at home, while son Nils was just about to do his Abitur. While Nils father and his business partner ensured that Orthomol became one of the pioneers for dietary supplements in Germany, the son was traveling in South and Central America. The current head of the company explored numerous Maya archaeological sites there.
The fact that father and son kept clashing during the senior's lifetime should soon no longer play a role. In 2009 Kristian Glagau died unexpectedly of the consequences of a pulmonary embolism. In addition to the mourning, this led to a gap in the group: As a result, Nils Glagau was not asked twice to become active in the company. Meanwhile has Nils Glagau, as CEO, led the group to new successes. In the meantime, the company has even set itself a turnover target of 100 million euros, which also leads to a high level of wealth for the boss. Nil's appearance on the TV format "Die Höhle der Löwen" can certainly do no harm to stir the advertising drum on this path as well.
The Orthomol Group
More than The Orthomol company has 30 different dietary supplements meanwhile in the range, whereby these products are only available in pharmacies in this country. The head of the group is the company Orthomol Holding GmbH, half of which belongs to the children of Orthomol founder Kristian Glagau. Together with his sister Gesche Hugger, Nils Glagau owns Orthomol Holding GmbH. Among them is the Orthomol pharmaceutical Vertriebs GmbH, the operative company that generates the majority of the group's turnover.
In 2017, the group had a turnover of over 94 million euros, with a balance sheet profit of over 26 million euros. The two siblings also share the operating company, with the top management (holding) having the largest share in it. While Nils Glagau runs the company as CEO together with Michael Schmidt, his sister does not appear operationally. The common mother, Marion Glagau, passed on her shares to the two children and withdrew from the Orthomol group. There are other companies in the group, directly under the holding company: Ortho-Trinity GmbH, Orthomed Vertriebs GmbH for food supplements, Orthomed Vertriebs GmbH & Co. KG for food supplements.
What is known about Nils Glagau?
Who Nils is privately with has not yet been leaked. The entrepreneur, who is now also appearing as an investor on TV, is said to have twin daughters. Professionally, the father of two is the master of more than 400 employees, with the company's headquarters located in Langenfeld near Düsseldorf. The head of the company is considered an enthusiastic amateur athlete. It should therefore come as no surprise that Orthomol has been involved in the past Football club Fortuna Düsseldorf has appeared as a sponsor. Various runners and swimmers have also signed sponsorship agreements with the group in the past. The same applies to the German national ice hockey team. This will not harm his estimated fortune of around 30 million euros.
Investor in "Die Höhle der Löwen" on VOX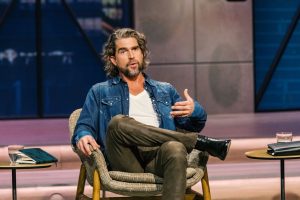 It is obvious that Nils Glagau should concentrate primarily on the areas of nutrition, health and exercise in his investments. Whether Waterdrop, Smartsleep or Veluvia, in the past there have been a number of start-ups from these areas that have tried their luck with "Die Höhle der Löwen". Since Orthomol exports its products to around 30 countries around the world, the Head of the company has a lot of expertise from which the start-ups can learn. In the sixth season of DHDL 2019 on VOX, Nils Glagau was able to invest his fortune in start-ups. Together with Judith Williams, Frank Thelen (retired), Carsten Maschmeyer, Georg Kofler, Ralf Dümmel, Nico Rosberg and Dagmar Wöhrl, Nils completes the lion's den. The seventh season will be broadcast in spring 2020.
Nils only knows to a limited extent how a real founder feels. After all, he is the second generation to run the family business and has the foundation only observed from the outside. The Glagau family couldn't stop the fact that there are many people in Germany who doubt the effectiveness of dietary supplements. Startups in which Nils Glagau will invest in the future will also be able to benefit from this self-confidence.
Investments made (deals) at DHDL:
The following deals actually came about during or after the Lion's Den was broadcast:
Season 10 – Fall 2021
100,000 euros for Colorsafe – blue soap for children (24% share)
125,000 euros for HealthMe – shopping app for allergy sufferers (13% share)
140,000 euros for LAUFMAUS – ergonomic handles (12.55% share)
Season 9 – Spring 2021
75,000 euros for WowWow – dog leash collar (15% share)
75,000 euros for Evertree – urn (33% shares)
150,000 euros for EASYBEEBOX – beehive (25% share)
55,000 euros for Ajuma – UV Bodyguard (12.5% ​​share)
100,000 euros for CO'PS – coffee liqueur (20% shares)
Season 8 – Fall 2020
85,000 euros for Grpstar – height-adjustable cleats for football boots (19% shares)
150,000 euros for Klang2 – memory game with tones (33.3% shares)
150,000 euros for Ellas Basenbande – organic ready meals (20% shares)
200,000 euros for Green Mnky – printer for smartphone protective films (12% share)
Season 7 – Spring 2020
1250,000 euros for Panthergrip – shin guards (25% share)
Season 6 – 2019
75,000 euros for Jagua – Tattoogel (15% shares)
150,000 euros for AER drones (15% share)
Pictures: TVNOW / Bernd-Michael Maurer

Visit site for more useful and informative articles!