Ronnie O'Sullivan: The Snooker Champ Fortune
The witch [CC BY-SA 4.0], via Wikimedia Commons
How rich is Ronnie O'Sullivan?
Ronnie O'Sullivan made history as a snooker player. His madness can be described as unusual for this sport. It is not for nothing that he is considered one of the best in the snooker world. The list of his records is long. Due to his outstanding performance and his extraordinary talent, he has managed to secure the pole position in the world rankings over several seasons in the past. So had Ronnie O'Sullivan an estimated net worth of 15 million euros. His prize money in billiards tournaments is £ 11.67 million.
These records can also be attributed to him:
Six wins at the World Snooker Championship
Seven UK Championships
Seven Masters wins
Prize money won for the title of the Snooker World Championship:
2020: £ 500,000
2013: £ 250,000
2012: £ 250,000
2008: £ 250,000
2004: £ 250,000
2001: £ 250,000
Negative headlines around Ronnie
Thanks to his fast play, Ronnie is affectionately known as "The Rocket"Celebrated. However, the British athlete was not only able to draw attention to himself with his snooker successes. Rather, he is said to be affected by a depressive illness, which explains his sometimes quite problematic behavior in public. His father is not a blank slate either. After all, Ronnie Senior was arrested on suspicion of manslaughter and was sent to prison in 1992. The junior was certainly not indifferent to the fact that his own father had to be behind bars until 2010. Ronnie's mother also came into conflict with the law and had to spend several months in prison for tax evasion.
the excessive consumption of alcohol and cannabis have unfortunately repeatedly distracted from Ronnie O'Sullivan's glossy moments. So he was subsequently disqualified at the Irish Masters in 1998, although he had previously won the final against Ken Doherty. But he could not secure this title in view of the positive doping test. Addressing his cannabis problem with various knowledgeable sports psychologists was obviously not enough. Rather, the athlete went to the Priory Hospital in London in 2000 to get rid of his addiction there.
The career of Ronnie O'Sullivan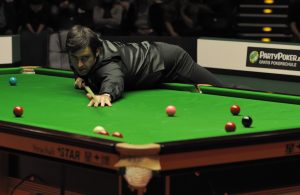 His hospital stay in London seems to have worked wonders for Ronnie O'Sullivan. After all, he could finally swear off intoxicants and get a year In 2001 he even secured his first world title. However, the successful athlete still had to struggle with panic attacks, depression and anxiety. In 2004 he managed to secure the pole position in the world rankings again. In 2008 he succeeded in this feat again. Despite the intermittent lows, Ronnie O'Sullivan has always played very high in the course of his career as an absolutely exceptional athlete. A sixth title has not yet been granted to him.
However, Ronnie O'Sullivan is working hard towards this. Because despite his long career, one of the best snooker players of all time wants to achieve more successes on his account. Until someone else claims the title "King of Snooker"Will secure, it should take a long time in any case. Even so, his relationship with the sport is ambivalent. One of the greatest snooker stars of all time has already taken several breaks. However, to the delight of many fans, "The Rocket" has not yet followed up on his threat that he would retire from snooker for good. If he ever ends his snooker career, Ronnie might try his hand at cooking. After all, cooking is one of his great passions.
Source: DerWexer [CC BY-SA 4.0], via Wikimedia Commons

Visit site for more useful and informative articles!