The fortune of rapper Tyga
How much money does Tyga have?
Hip-hop is and will remain the genre of music with which young people can make a lot of money quickly. This genre of music is flourishing and thriving, there is demand and new rappers starlets are constantly making it onto the big stage. Young Money Entertainment, Cash Money Records – the names of the labels that have signed the Californian rapper Tyga speak volumes. The young hip-hopper Tyga is an example of a lifestyle in which music is sometimes a minor matter. Instead, branded clothes, luxury cars and villas are in the foreground. And of course a lot of bling-bling articles. The American rapper Tyga has an esteemed Assets of 4 million euros.
The cash prince of hip-hop
The artist name of the rapper, born on November 19, 1989, stands for "Thank You God Always". The first letters result in the made-up word Tyga – and that is clearly better than his birth name Ray Nguyen-Stevenson. So the creative rapper has given himself a cool artist name. Stevenson spent his childhood and youth partly in Compton, California, partly in Gardena, both places in the vicinity of the metropolis of Los Angeles. The place Compton was ennobled in 1988 by the song "Straight Outta Compton" by the band NWA, since then the piece has been considered Compton's unofficial anthem. Anyone who grows up here as a young black man gets used to a musical diet of rap and hip-hop early on. And Stevenson also got enthusiastic about rappers like Eminem, Fabolous or Lil Wayne at an early age.
Tyga made his first musical experiences in a professional environment in 2007, and a year later he released his debut album "No Introduction". By 2015 3 more albums were released, including the last release "The Gold Album: 18th Dynasty". A previously published duet with Justin Bieber drew attention early on to the – of course – all gold disc. Forbes counts the musician among the hip-hop cash princes, an allusion to Tyga's financially extremely successful career.
The fortune of the rapper Tyga
Overall, Tyga's net worth is estimated at between $ 5 million and $ 8 million. He earns around $ 50,000 in fees for each performance alone. However, he is not only musically active, but has built up other pillars. The young hip-hop star is trying to increase his million dollar fortune and is also concentrating on secondary branches to his rap business. Like many other hip-hoppers, Tyga relies on the power of streetwear. With "Last Kings" he launched his own clothing line including shops. Obviously a profitable line of business with annual sales of around $ 3 million. He has also negotiated lucrative deals with well-known sports shoe manufacturers. For his T-Raww collection, he received one in 2013 Reebok contract for $ 1.5 million one. He also gives his good name for shoes from LA Gear.
Sex sells for an expensive lifestyle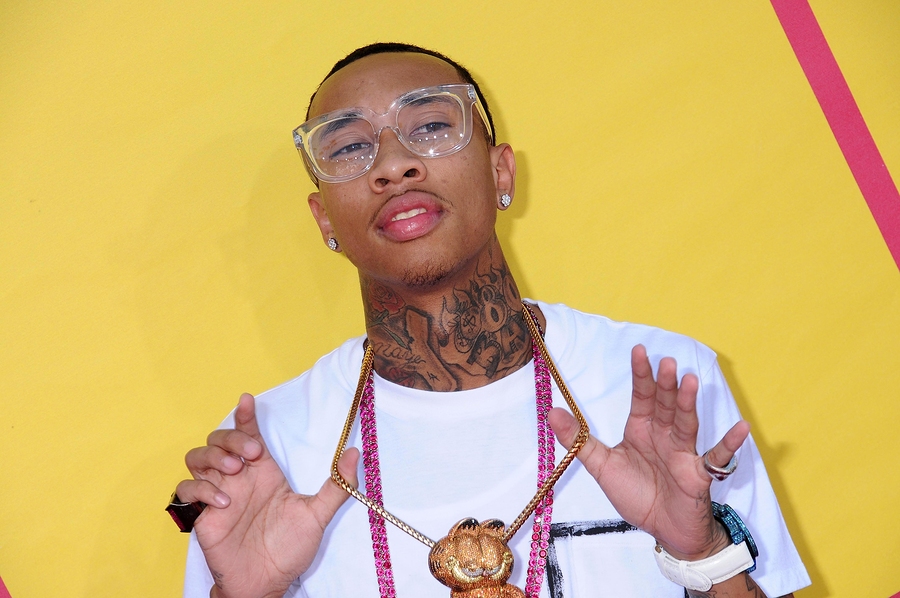 Tyga has been running a sex site on the Internet since 2012 under the label "Rack City". The website is said to have made about $ 12,000 in the first month alone. A porn film of the same name was released in the same year. The owner insisted on taking part in the strip personally.
"Whoever has, is given to him." This modified Matthew quote also applies to Tyga in a similar or similar way. In doing so, he definitely gives back: For example, when it comes to investing in his fashion brand or gifts for his girlfriend. He's apparently having a harder time with other payments, such as rent.
Rent debt – not a nice thing. Especially when they're close to $ 90,000. Tyga owes that much to his former landlord in Calabasas, California. The rapper rented a luxury villa here in 2010 … and apparently forgot to pay the rent. The landlord took the matter to court in the spring of 2015, demanding the back payment due plus interest and court costs – around $ 124,000.
To spruce up the exterior of his "Last Kings" flagship store in Los Angeles, the rapper jumped $ 120,000 in early 2014. The Egyptian-style design is intended to be reminiscent of the glory days of the Pharaohs dynasties and to make it clear: "We can all be kings." Irrespective of possible stylistic inconsistencies, a ceiling in the style of Michelangelo's Sistine Chapel was painted, the cost of which was 100,000 dollars.
Tyga and his (ex) girlfriends model Kylie Jenner and stripper Blac Chyna
On her 18th birthday on August 10, 2015, Tyga gave his girlfriend, model Kylie Jenner, a Ferrari worth $ 320,000. The very next day they both went on vacation to Mexico. Not in a Ferrari, but in a private jet. Tyga dated Kylie Jenner from early 2015 to May 2016. In May, the rapper announced the separation. However, there is currently a love comeback of the two.
Before that, he had also been in love – in October 2011 he met urban model and stripper Blac Chyna. The two officially became a couple in November 2011, and the stripper was also seen as the leading actress in the Rack City music video. Shortly afterwards, she became pregnant and their son, King Cairo Stevenson, was born in October 2012. For the small family, Tyga bought a villa in Calabasas, California, a whopping $ 6.5 million. Mom and Dad also got their son's name tattooed on them. The relationship ended at the end of 2014. Now Tyga seems to be celebrating and enjoying his single life, who knows how long it will take until he falls in love again.
Image sources:
Landscape: s_bukley / Bigstock.com
Portrait: kathclick / Bigstock.com

Visit site for more useful and informative articles!